Candidate Profile: Marvin Torneden
Editor's Note: The following candidate profile, written by reporter Joel Walsh, continues The Mirror's series on local candidates running in primary elections Aug. 5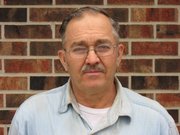 Marvin Torneden, one of seven Republican candidates for Leavenworth County Commissioner, District 3, says he is running for the commission seat in hopes of bringing "the government back to the people through voting accountability and integrity."
The Linwood farmer who has worked as a custodian for the past five years with the Basehor-Linwood School District also has been a member of the Reno Township Volunteer Fire Department since its inception and was a road worker with Reno Township for two years.
In a recent candidate questionnaire, Torneden said major capital improvement projects, like constructing an interchange on Interstate 70 at County Road 1 and upgrading the countywide emergency communications system, should be handled "by a vote of the people : with rights of the minority in mind."
He said he would "make any and all possible efforts to hold the line or decrease taxes" and advocated managing growth in an organized fashion "if there is to be growth" and keeping rural roads in good shape.
Asked whether he would support locating a regional air and business park in Leavenworth County, Torneden responded, "Only if approved by voters and didn't raise taxes. It would have to be self-supporting."
Torneden will be available for an online chat at 4:30 p.m. today at www.tonganoxiemirror.com/chats. He and six other Republicans will face off in the Aug. 5 primary.
A Nov. 4 general election with sole Democratic challenger Pete Henderson is set to follow.
Check next week's Mirror for profiles on more of the candidates running for the 3rd District post, and for Torneden's full responses to a candidate questionnaire, visit our Web site.