Candidates to meet with voters
More Web chats scheduled for today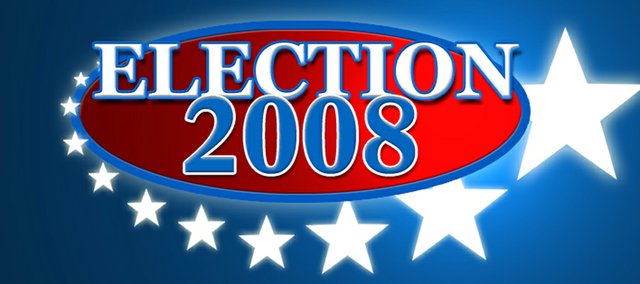 With an Aug. 5 primary election less than two weeks away, Leavenworth County residents don't have much longer to get out and meet the candidates before casting their vote for county, state and national representatives.
One such opportunity, hosted by Tonganoxie Veterans of Foreign Wars Post 9271, will be held at 7 p.m. Thursday at the Tonganoxie VFW Hall, 910 E. First St.
Republican candidates for Kansas' 2nd Congressional District (former congressman Jim Ryun and state treasurer Lynn Jenkins) have been invited to attend, as have 42nd District State Representative candidates Ted Ingerson and Connie O'Brien, both Republicans, all seven Republicans vying for Leavenworth County's 3rd District County Commission seat and any other candidates running unopposed in state and county races.
Candidates will each be allowed a three-minute presentation if desired followed by a question-and-answer session with the public.
Another candidate forum is scheduled for Monday, July 28 at 7 p.m. at the Bob Wiley Memorial VFW Post, 2806 N. 155th St. in Basehor, sponsored by the Basehor Chamber of Commerce.
All contested candidates for 3rd District County Commissioner and county attorney (Republicans Debra "Deb" Snider and Todd Thompson) are expected to attend. Democratic incumbent Frank Kohl will meet Snider or Thompson in the November general election.
A forum at the Linwood Community Center will be held Tuesday at 7:30 p.m. 3rd District County Commission candidate Marvin Torneden, as well as Jim Russ, will host the event.
Tonganoxie resident Dennis Bixby is hosting a breakfast and "meet the candidates" opportunity from 7 a.m. to 10 a.m. Saturday at the Tonganoxie Historical Site, 201 W. Washington St., too, featuring Snider and O'Brien.
In addition, it is not too late to submit questions for candidates in several upcoming, open-forum Web chats The Mirror staff has arranged with contenders in local, contested primaries.
Leavenworth County Attorney candidate Deb Snider will discuss her candidacy online today at 11 a.m., 3rd District County Commission candidates Beverly "Bev" Oroke and Torneden will follow at 1 p.m. and 4:30 p.m., respectively, with 42nd District State Representative candidate Ted Ingerson addressing voters' questions at 6 p.m.
Other chats scheduled so far include 3rd District County Commission candidate John Flower at 1 p.m. Thursday, July 31 and 42nd District State Representative candidate Connie O'Brien at 5 p.m. Thursday, July 31.
All contested candidates for county attorney, 42nd District state representative and 3rd District county commissioner have been invited to host a Web chat.
To pose a question for any participating candidate, visit www.tonganoxiemirror.com/chats during or leading up to each respective discussion.