County comprehensive plan discussed among residents in Tonganoxie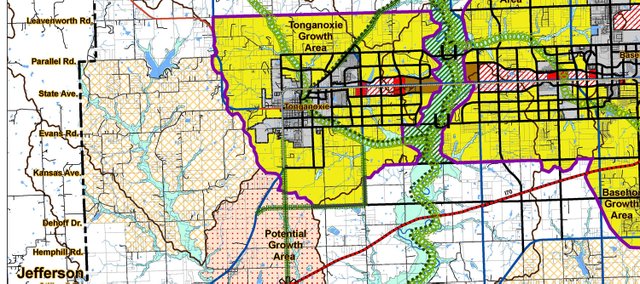 On Thursday, Chris Dunn, Leavenworth County Planning and Zoning director, updated Tonganoxie residents, city and business leaders about what the future holds for the county.
During the update Dunn discussed portions of the nearly 200-page comprehensive plan. Dunn spent a lot of time focusing on survey results, where county residents discussed what they wanted for the future of the county.
"Folks want roads, folks want parks and they want transparency in projects," Dunn said. "It's the same thing everybody wants. They want to keep the rural atmosphere with Johnson County amenities."
Among other things, it recommends:
¢ Using an interlocal agreement between the county and municipalities within the county to develop guidelines for residential and commercial development within cities' urban growth management areas;
¢ Forming a public utilities commission in an attempt "to provide water and wastewater management appropriate to development" to municipalities within the county;
¢ Developing a "master plan" for the planned Interstate 70 interchange at County Road 1 in southern Leavenworth County; and
¢ Amending the county's zoning regulations.
Cheryl Hanback, executive director of the Tonganoxie Chamber of Commerce liked that county residents were able to participate in the planning.
"By asking the citizens and having them involved in the planning, growth can be managed to everyone's benefit.
"Planning for the future development is invaluable, like laying out a house plan. So everything has it a place where it logically fits."
The comprehensive plan was officially approved by the Leavenworth County Commission in June.
A copy of the comprehensive plan can be found at The MIrror's Web site, www.tonganoxiemirror.com.
- Joel Walsh contributed to this report.