Dave Taylor candidate questionnaire responses
Editor's note: The following are responses to a questionnaire mailed to candidates in the upcoming Aug. 5 primary election. Look for more candidate profiles and full responses to the questions leading up to the primary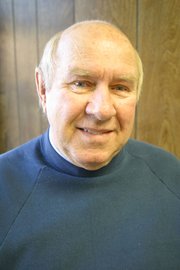 Name: Dave Taylor
Place of residence: Tonganoxie
Birthdate: June 25, 1935
Family: Married with two children, three grandchildren and three great-grandchildren
Religion: Christian
Education: U.S. Army GED
Occupation: Retired contractor and retired owner/publisher of The Grand Central Publication
Political and government experience: Mayor, City of Tonganoxie (four years); served on the Kansas City, Kan., Housing Authority
Clubs or organizations: American Legion Post 41, Tonganoxie Historical Society, AFL/CIO Local 861, 2006 Leadership Summit LKM Award, Masonic Lodge
Why are you running for the commission seat? "The last four years I represented the City of Tonganoxie; now I would like to represent the 3rd District and the entire county."
What is your top priority for Leavenworth County? "The two surrounding counties have eliminated rock roads, and I feel it's time for Leavenworth County to do the same. Let's stop talking about it and take action. Rock roads are a hardship on everyone who uses them. Not only will people who live on these roads benefit, but the entire county will benefit by this upgrade."
The current county commission has committed special sales tax revenue to several capital improvement projects, including the County Road 1 interchange project in southern Leavenworth and a countywide communications upgrade. How would you like to see these projects handled if elected? "County Road 1 has been controversial to say the least. When you start developing an area, you must set aside areas for farmland as well as parks. There is no question homes will be built. People all over the county should have a say in a project this large. The communication upgrade is a federal mandate, and, again, you need to have public input."
For the past five budget cycles, commissioners have reduced the county's mill levy - of the percentage of assessed value that county property owners pay in property tax each year. What efforts would you make to hold the line on or decrease property taxes, if any? "I feel the commission has done well with this matter, and I think we should hold the same course as the past five cycles. On the other hand, they should set their goals to keep lowering taxes."
Leavenworth County is experiencing a time of residential and commercial growth. What steps might you take to manage that growth? "To manage growth, you have to work with city and county planners. If annexation becomes an issue, I believe the parties involved should have a say. The taxpayers should have the final say."
As a county commissioner, you would assume authority over more than 400 county employees - including a newly hired county administrator - and would constantly interact with them, other municipalities' elected officials and members of the public. What kind of leadership, administrative and interpersonal skills do you possess? How would you work with the administrator and county department heads to make decisions and develop/implement policy? "As mayor, I initiated the open door policy. I made myself available if any person had a problem they wished to discuss. I attended many meetings with the mayors of Basehor, Lansing and Leavenworth. With this background, there would be no problem working with the administrator or department heads."
Are you in favor of locating a combined regional airport and industrial complex in Leavenworth County? Why or why not? "Yes, I believe it would serve a good purpose."
What differentiates you from the other candidates filing for this office? "I believe I am the only elected official running for the commission. My experience as mayor has prepared me for this responsibility."