Downtown Tonganoxie evaluated at workshop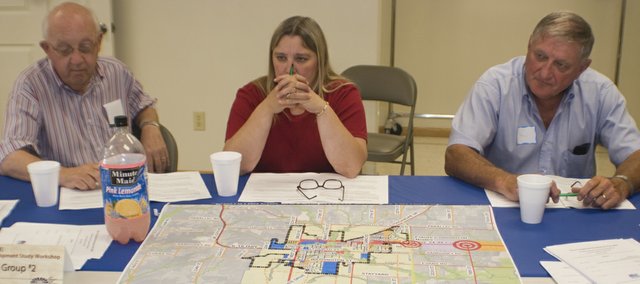 The best part of waking up could be a cup of joe from a local Tonganoxie coffee shop. At least that was one of the ideas pitched at the Wednesday, July 16 commercial study workshop sponsored by Bucher, Willis and Ratliff Corp.
Around 17 people, including current and former city leaders, local business owners and city planners attended the workshop, which focused on the needs of the city as it pertains to expanding and retaining business in Tonganoxie.
"It was really helpful," Scott Michie, vice president of BWR, the city's planning firm, said. "We wanted to find out how the group felt were the strengths and weaknesses in Tonganoxie."
The participants were split into two groups and asked to answer several different questions. Part one of the questionnaire asked the participants to focus on existing citywide development. The questions asked the groups to name services needed in Tonganoxie, what the strengths are in some of the niche attractions in the town and what are the strengths and weaknesses for development along the highway.
On everyone's mind was the four corners area on Fourth Street and U.S. Highway 24-40.
"That area's an eye sore," said Tonganoxie Mayor Mike Vestal. "That's a sore subject with me. I have to pass it every day and it's not a very good welcome sign for Tonganoxie."
The second part of the questionnaire involved future development potential for the region.
The BWR economic development study graphed that Tonganoxie had good economic potential in the arts, entertainment and recreation area as well as restaurants and niche retailers.
To gain more information for their final report, BWR will be sending surveys to 1,000 residents in and around the city limits with questions similar to those discussed at the meeting. The surveys will be sent out by the end of next week, and Michie said he needed residents to send them back by the beginning of August.
BWR began their research after a unanimous decision by the Tonganoxie City Council to pay the planning firm $33,700 for a core study, which included a communitywide survey, economic market study, community development meetings - called charrettes - and a final open house that will allow the community to have input on the company's final report.