If these walls could talk
Lifelong Tonganoxie resident keeps historic memories in own "gallery" - his garage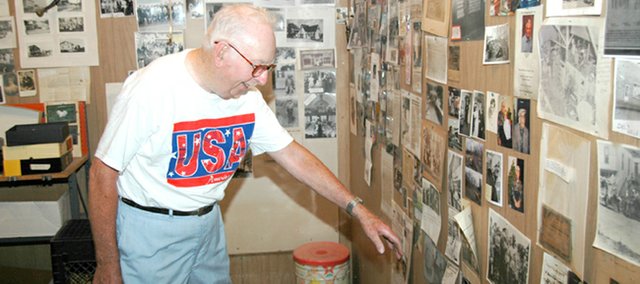 Tucked away in John C. Lenahan Sr.'s garage on Washington Street, old maps, drawings and black and white photographs of friends, family and memorable moments in Tonganoxie's history grace the wood-paneled walls.
Inside Lenahan's home, scrapbooks filled with yellowed press clippings tell of events, such as the storm of 1957 that ripped through downtown Tonganoxie. And, in the corner of one room, a cast-iron stove crafted around the turn of the century by Leavenworth's Great Western Manufacturing Co. still heats the house during the winter months.
Likely the city's most recognized local historian, Lenahan is eager to let visitors tour the veritable history museum - or "friends gallery" as he calls it - in his garage.
"You can call it history if you want to, because most of them are dead now," Lenahan said Monday, looking through the faces pictured in his collection.
There are the class photos from area rural schools dating back to the 1930s, the snapshot of employees outside the "new" Tonganoxie Post Office in 1962 along with an image of Lenahan singing with a group of fellow United States servicemen during World War II in Corsica, France, that line the walls.
Lenahan is sure to point out a portrait of President Harry S. Truman - "our last good president" - and he still puzzles over a photo of a Ku Klux Klan rally in Tonganoxie dated 1924.
"People don't want to talk about something they don't understand," Lenahan explained of the particularly sordid period in the city's past, which was commonplace in many communities across the country at the time. " : Kind of like the (stock market) crash of 1929."
The 85-year-old, lifelong Tonganoxie resident was a Depression-era child himself, growing up on East Eighth Street.
His father was a farmer, also selling real estate and insurance before losing most of his assets in the stock market crash and subsequent bank foreclosures of the 1930s.
His mother designed hats at the Zoellner Mercantile Company, where Bichelmeyer's Steakhouse stands today.
Lenahan, while still in high school, took a job himself as a projection operator at the old Royal Theater in downtown Tonganoxie.
"I wanted to go see the movies, but I couldn't afford it, so I got a job at the movies," he said.
After serving with the United States Army Air Corps' 57th Bomb Wing, Lenahan got on as a surveyor for the Kansas Highway Commission. He also worked as the foreman at a Leavenworth warehouse, a video technician on post at Fort Leavenworth's Command and General Staff College and is probably most well known by local residents for running a hardware store in downtown Tonganoxie for roughly 35 years - in the building that once housed the theater where he formerly worked.
He eventually took interest in the city's history, and over the years, residents have come to him with old photos and have often relied on his memory when questions about relatives or 'how it used to be' in Tonganoxie come up.
Using "anything I can scratch up," Lenahan has published three books - "Yesteryears I, II and III" - on local history and "just history in general."
Photographs taken from the negatives he stores in an old, rusty safe in his garage can be found adorning the walls in the Leavenworth County Courthouse, at the Tonganoxie Historic site and in many local residents' homes.
Lenahan emphasized he is not in any sort of competition with the Tonganoxie Community Historical Society and all of the group's efforts to preserve the city's past.
"This is just my personal picture gallery," he said of his vintage photographs, "and it's open to anyone who's interested in the history of Tonganoxie."
As a service to residents, he now sharpens chainsaw blades at his home on Washington Street, where he has lived for 42 years, 35 of which were spent with his late wife, Jean.
"That's what I'm here for is to serve the public," he said. "Hell, they kept me in business for 35 years and kept me in Tonganoxie for 85. I feel I owe it to them."
Lenahan said he's sometimes wary of what kind of perception he gives off to the public.
"I don't want everyone to think I'm some damned old tooty," he explained. " : (I'm not) some old man playing a fiddle without a bow, you know."
He said he prefers to be known around town simply as "old John."
Explaining his devotion to documenting Tonganoxie's history, he remarked, "It's just some crazy tuck I got caught up on.
"I don't drink, don't smoke, don't carouse : When you've been as active as I have and then suddenly just stop : you better have something to hang on to - some kind of hobby, you know - and this is about the cleanest hobby I could have."