Lowe knows baseball: Pitcher off to
USM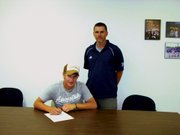 Erick Lowe's collegiate baseball career took a detour before it even left the driveway of his Tonganoxie home.
The 2008 Tonganoxie High graduate thought he was headed for Fort Scott Community College this fall. That was before FSCC's former coach left for another job.
But thankfully for Lowe, the University of Saint Mary baseball staff, which watched him pitch earlier in the year, stepped in and provided the right-handed pitcher with another avenue. Lowe signed with the NAIA Spires in June after visiting the campus and talking with USM coaches, and he thinks it will be the right destination for him.
USM first saw Lowe throw against Spring Hill at the Butch Foster Memorial Baseball Classic at CommunityAmerica Ballpark in Kansas City, Kan. Lowe started, threw four-plus innings and suffered a loss.
He remembers it perfectly even now - down to the four strong innings he threw before a balk and some errors blew up in his face in the fifth. Little did he know at the time that the outing would leave such an impression on USM, but the coaches apparently focused on the strong parts of Lowe's game, which were on display before the fifth.
His off-speed stuff, specifically his curveball and changeup, was working and Lowe knows that's what got him a spot at USM.
"Act like you're throwing a fastball when you're throwing a curveball. Always keep them guessing. That's what I always focus on," he said.
Far from a power pitcher, Lowe said the other crucial aspect of his approach is hitting spots.
"I'm not going out there throwing upper 80s. I'm throwing 82," he said. "It's all about hitting your spots and getting movement on all of your pitches."
With focus a necessity, Lowe said he has to stay mentally strong to be effective.
"You can't just rear back and throw it past somebody. You've got to hit your spots and keep them guessing," he said. "You miss your spots, you're going to pay for it - especially at the next level."
Once he becomes a college baseball player, Lowe said his chief objective would be to improve his leg strength and stamina so he can pitch longer outings.
Lowe will be the first to tell you that he only went the full seven innings once during his senior