Ready to be a Cowgirl
THS

graduate to continue her rodeo ways with Oklahoma State equestrian team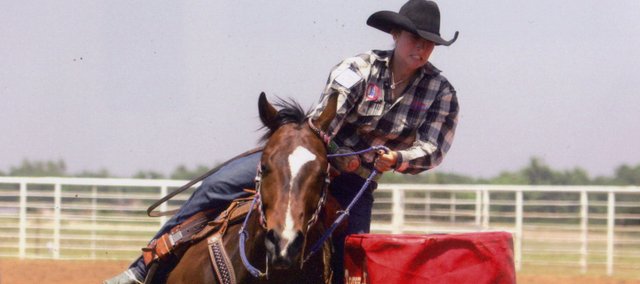 A little off the beaten path from other high school athletes, Courtenay DeHoff has found the rough-and-tumble world of rodeo suits her just fine.
A 2008 graduate of Tonganoxie High, DeHoff has been on the Kansas High School Rodeo team for four years now. And this week the equestrian standout's hard work and natural horse-riding ability has landed her in the National High School Finals Rodeo in New Mexico, where she will compete in the goat tying competition.
From the day she was born, rodeo might well have been DeHoff's destiny. She has been riding horses her whole life and her mother's side of the family has always been involved with riding and rodeo.
Riding came naturally for her, even as a child. But things turned a little more serious when her grandfather bought her a pony that could do barrel racing when she was about 9 years old.
"That was pretty much the end of all the slow horse stuff and I started rodeo," DeHoff said.
Though rodeo proved far more difficult to conquer, DeHoff stuck with it and eventually acclimated herself to two events in which she now specializes - goat tying and barrel racing.
A Kansas High School Rodeo Queen twice over, amazingly, DeHoff pretty much taught herself how to goat tie. She just mimicked what she saw other competitors do in the event and decided to jump in head first. But initial results weren't so great.
"For a long time I was pretty much family entertainment for the whole rodeo because I was awful," DeHoff recalled of her early goat tying outings, which seem in the distant past now that she has qualified for the National High School Finals Rodeo in Farmington, N.M. "I've come a long way."
Most of the legwork in getting to nationals has come in DeHoff's high school career, and she doesn't plan on wasting the opportunity that lies in front of her.
"I've worked to get there for four years. I'm finally there and going to go see what I can do," she said.
Having the fastest run in goat tying has never been DeHoff's strong suit, she said. Instead she tries to get a few clean runs on her horse, Dodge, to get her the optimum score.
"I don't need to blow them away," she said.
While barrel racing is DeHoff's other area of rodeo expertise, she said that has provided a new challenge this year as she has been adjusting to a new horse, Rebull, whom she rides for that event.
She is crazy about the horse, proclaiming it "phenomenal" and the best she has ever owned, but it is such a "hard-riding" animal that DeHoff is almost re-learning the barrel race art form at a new level.
In preparation for New Mexico, DeHoff spent this past week in Shawnee, Okla., just about an hour south of Oklahoma State University, where she will go to school in the fall.
At OSU, a member of the National Intercollegiate Rodeo Association, DeHoff will continue her rodeo endeavors. Even though rodeo isn't an NCAA sport, she received scholarships from a few rodeo associations to attend the university in Stillwater.
The cowgirl decided on OSU, where she will major in broadcast journalism, because it had the right combination of rodeo and educational opportunities she was looking for.
"My goal is to broadcast the National Finals Rodeo in Las Vegas," she said. "Every kid dreams of competing there, which I also want to do that, but I'd love to broadcast it."
If everything goes as planned, DeHoff will use her college experience to continue in the rodeo world one way or another.
"If I'm going to be able to do this rodeo stuff I'm going to need to have a good job," she said.
In the meantime, DeHoff is approaching rodeo like a job. She said it takes a lot of hours and dedication to perfect the skills she makes look so easy. While competing in Oklahoma, she hit the sack after midnight and was back out practicing by 6 a.m.
It's not that glamorous, but the effort occasionally pays off. Such was the case in June when she qualified for the national competition at the Kansas State High School Rodeo finals. While that accomplishment was special, DeHoff was just as touched to see a slew of Tonganoxie supporters who turned out to watch