Coach hopes tough weekend prepares Post 41 for league tourney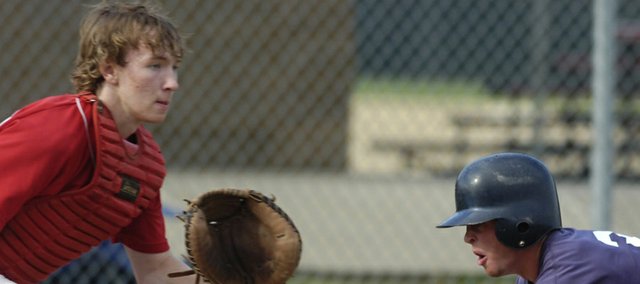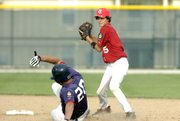 Postseason play for Post 41 began with a thud this past weekend at the Legion Zone 2 Tournament in Lawrence - Tonganoxie lost to the Raiders, 35-0, on Friday and fell to Atchison, 23-2, on Saturday - but coach Pat Bailey thinks the rough go-round with the big boys will pay off at the Post 23 American Legion League Tournament this week.
Not a single Tonganoxie batter reached first base on Friday against Lawrence's Tom Schuh, but Bailey said his team never quit.
"I was proud of my guys," Bailey said, adding that Post 41 was only down 1-0 after the second inning against Lawrence and came back the next day and played better. "We got schooled a little, but I think it'll help them for our league tournament."
Tonganoxie registered four hits against Atchison on Saturday. Kyle Newton was 1-for-3 and scored a run. Zach Langston and Corey Klinkenburg also went 1-for-3, and Jon Harris was 1-for-4.
Post 41 is scheduled to play its league tournament opener against the Leavenworth Knights on Tuesday night.
Win or lose, Tonganoxie will play again in the double-elimination tournament tonight at 7 p.m. against either the Leavenworth Wranglers or Lansing Cubs.
Tonganoxie all-stars
Four Tonganoxie players took the field for the Blue Division at the inaugural Post 23 American Legion All-star game Monday, July 21, at Leavenworth Sportsfield.
James Bailey, Grant Ebbert, Pat Gallagher and Ryan Stockman all contributed in the Blue's 24-22 victory against the Gold Division.
One of the game's biggest moments came when Stockman entered the batter's box in the eighth inning with his team trailing, 22-20. He blasted a three-run homer to left, which proved to be the deciding runs in the high-scoring affair.
Ebbert went 2-for-4 with a long RBI-single that was a few feet shy of being a home run.
All-star game rules stipulated that a pitcher could only throw one inning and Gallagher did just that, allowing two runs the night after pitching a complete game.
Ebbert, who usually plays first base exclusively, even got into the action on the mound after some pleading and prodding from his coach.
The first baseman made quick work of the Gold Division, retiring all three batters he faced with just a handful of pitches. Ebbert entered with one out in the eighth and retired the first two batters he faced to end the inning. He then went on to get the first out in the ninth.
"One of the better pitching performances of the evening," Bailey said.