Candidate Profile: Tony Klamm
Editor's note: The following candidate profile, written by reporter Joel Walsh, concludes The Mirror's series of profiles on local candidates running in primary elections Aug. 5.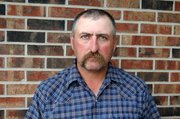 Tony Klamm, one of seven Republicans vying for Leavenworth County's 3rd District County Commission seat in an Aug. 5 primary election, says he has what it takes "to maintain current or improved county services while looking for ways to decrease cost to the taxpayers."
"This is a critical time for us due to the general economics and high fuel prices, which are increasing the price of goods and services," Klamm said in recent candidate questionnaire distributed to all candidates running for the commission seat.
The rural Bonner Springs farmer and part-time Realtor says he knows firsthand how increased cost-of-living expenses are affecting area residents and that, through responsible government spending and by bringing industry and jobs to Leavenworth County, the tax burden can be softened.
"Self-sustaining growth should be encouraged without placing undue burden on current property owners," Klamm explained. "This includes the ability of the county and those cities located nearby to get cost effective infrastructure to developments and commercial areas."
Asked how he would work with the county administrator and department heads to develop and implement policy, Klamm said that "although county administration is charged with the daily responsibilities of management, the commission needs to provide clear, specific guidance to county administration to assure quality and cost effective services."
In regard to a question concerning how large-scale capital improvement projects like the County Road 1 interchange project and a countywide communications upgrade should be handled, Klamm said the commission's main concern should be the safety and welfare of the population and "the overall approval of residents for projects and programs.
"Regardless of their status, both projects should be conducted in a manner to ensure the best quality product and the maximum benefit to the county when completed," he noted.
Klamm - who listed involvement in the Leavenworth County Beef Improvement Association, Kansas Livestock Association, Heartland MLS and the Kansas City Realtors Association - is joined by Republicans Beverly "Bev" Oroke, John Flower, Dave Taylor, Francis Hurla, William "Bill" Merkel and Marvin Torneden in the Aug. 5 primary.
The winner will face lone Democratic candidate Pete Henderson in a Nov. 4 general election.