Candidate Profile: William "Bill" Merkel
Editor's note: The following candidate profile, written by reporter Joel Walsh, concludes The Mirror's series of profiles on local candidates running in primary elections Aug. 5.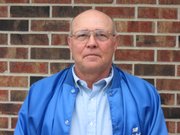 Asked why he is running for the Leavenworth County Commission's 3rd District seat, William "Bill" Merkel said, "I think it's time to give the voters more say in what is done in Leavenworth County."
Merkel says he is a staunch believer that Leavenworth County "voters should have the final say in major expenditures and major projects."
Merkel's ideas for the commission include having monthly meetings on the board's goings-on at locations throughout the county for residents who are unable to attend the commission's regular bi-weekly meetings at the county courthouse.
The Reno Township trustee and assistant township fire chief is an excavating worker; he has run his own business, and he served previously as a department manager at a large auto dealership.
"I don't deal in real estate, I'm not a developer, nor am I in any way connected to a developer," Merkel said as something that differentiates himself from other candidates running for the county commission post.
Asked his view on major projects ranging from County Road 1 to plans to locate a combined airport and industrial park in the county, Merkel repeated that voters must be involved in the decision-making process.
In regard to a regional airport, Merkel said, "A regional airport this close to KCI, downtown Kansas City and all other major airports in my opinion would be a losing proposition, especially when you are just a few minutes from an international airport. However, after being well informed of both the positives and negatives of such a project, if the voters want an airport industrial complex, then my job would be to find out how to make it happen."
Asked how he would like to see burgeoning residential and commercial growth in Leavenworth County handled, Merkel replied, "There needs to be a healthy balance of residential, commercial and agriculture to maintain the quality of life the residents can enjoy for years to come."
Merkel will face six other Republican candidates for 3rd District County Commissioner in the primary Aug. 5, and, should he advance from that, he would meet Pete Henderson, a former insurance salesman from Basehor, in a Nov. 4 general election.
For Klamm and Merkel's full responses to a recent candidate questionnaire, visit www.tonganoxiemirror.com.