Candidates make their cases for offices at forum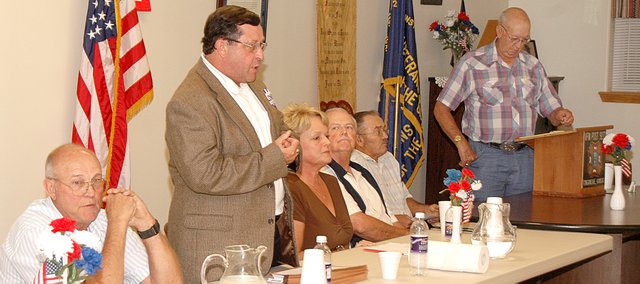 For nearly three hours Thursday, candidates for county, state and national offices met with area voters at the Tonganoxie Veterans of Foreign Wars Post Home.
With past VFW commander Harold Denholm moderating, questions from the more than 50 people present at the symposium ranged from national immigration and state energy policy to local handling of roads and taxes.
Catharine Ryun, the daughter of former U.S. Congressman Jim Ryun, a Republican, began the evening with a three-minute introduction, which was afforded to each candidate present.
Catharine Ryun sent greetings from her father, who was campaigning Thursday in Riley County, and she emphasized her father "wants to make tax relief permanent" if elected.
Catharine Ryun also noted her father's support for the military, belief in strengthening America's borders, his commitment to pro-life values and backing of the U.S. Constitution's Second Amendment.
Ryun's opponent in the Aug. 5 Republican primary election, State Treasurer Lynn Jenkins, also emphasized her pro-life stance and commitment to stopping the flow of more than 12 million immigrants that she said have illegally crossed the U.S. border.
"It's time to secure our borders and finish the fence," Jenkins said, also stressing that her years of experience as a certified public accountant would help to curtail federal spending and "the wasting of our hard-earned dollars."
On the state level, the two candidates for the Kansas Senate's 3rd District seat - incumbent Roger Pine, R-Lawrence, and state Rep. Tom Holland, D-Baldwin - three candidates running for 42nd District state representative - Republicans Ted Ingerson and Connie O'Brien and Democrat Timothy Moran - and Steve Fitzgerald, the Republican candidate for Kansas Senate, District 5, fielded questions on health care, energy policy and education.
In response to their views on locating additional coal-fired power plants in Kansas, Pine said he supported plans for two power plants near Holcomb and the jobs they would create and has fought consistently to override vetoes that Gov. Kathleen Sebelius has made.
"We're going to need all forms of energy to meet the many needs of Kansas in the future," Pine added, noting that transmission lines that would be lain as part of the Holcomb project could help to harness wind energy as future needs dictate.
Holland argued that 86 percent of energy produced by the proposed plants would go out of state, with Pine countering that it makes no difference in his eyes; he asked whether selling Kansas beef outside the state was a bad thing.
Holland criticized the current Kansas Legislature for failing to help with high health care costs and for taking no action in regard to illegal immigration.
"I am the only Democrat in the Kansas House that has consistently opposed tuition assistance for undocumented children in the state," Holland said.
In regard to health care policy, he quipped, "If politicians had to deal with the same health care issues that everyone else had to, we'd get that problem solved overnight."
In county races, all seven Republicans (Beverly "Bev" Oroke, John Flower, Francis Hurla, Dave Taylor, William "Bill" Merkel, Marvin Torneden and Tony Klamm) and a lone Democratic candidate (Pete Henderson) running for the Leavenworth County Commission's 3rd District seat had an opportunity to address the crowd.
Denholm, as moderator, welcomed all queries excluding any concerning the County Road 1 interchange project, which he called "a done issue."
One of many questions posed was, "How can one commissioner - if they are only one - make a difference?" Flower answered first, noting "a personal relationship with the other two commissioners" that he has already sought to create.
Oroke said that as one person, a commissioner cannot do everything he or she wants. She advocated "having quarterly meetings in our county so your commissioners can explain what's going on."
A third respondent, William "Bill" Merkel, said he understands the meaning of compromise.
"I've worked with people all my life," he said.
Also receiving attention Thursday were candidates for Leavenworth County Attorney, incumbent Frank Kohl, a Democrat, and Republican challengers Todd Thompson and Deb Snider.
Each noted their courtroom experience in jury and bench trials and explained their legal interpretation of recent high-profile cases in the county including those against Sedale Fox, a Lansing man charged with first-degree murder in the Jan. 22 shooting death of Olivia Jackson, and Ricardo Flores, an undocumented immigrant who plead no contest for failure to yield at a stop sign and for driving without a license in an automobile accident that claimed the life of 19-year-old Tonganoxie native Amanda Bixby in February 2007.
Lastly, the two candidates to file for Leavenworth County sheriff, Democratic incumbent David Zoellner and Republican James Dyson, had a chance to speak.
Zoellner noted his 39 1/2 years of experience in the Sheriff's Office and vowed to complete improvements to the county jail's kitchen and work-release area and move forward with a countywide communications upgrade, two projects, Zoellner noted, that are being funded through countywide sales tax initiatives - not by raising property taxes.
Dyson emphasized his 38 years in law enforcement, including involvement with the Leavenworth Police Department as a patrol sergeant, detective and "about everything imaginable" and as chief of police of the Department of the Army Civilian Police on post at Fort Leavenworth.
Denholm concluded Thursday's candidate forum by reminding residents that a similar forum was scheduled Oct. 30 with candidates remaining in the Nov. 4 general election.