Political pair
Truesdells highly involved at local government level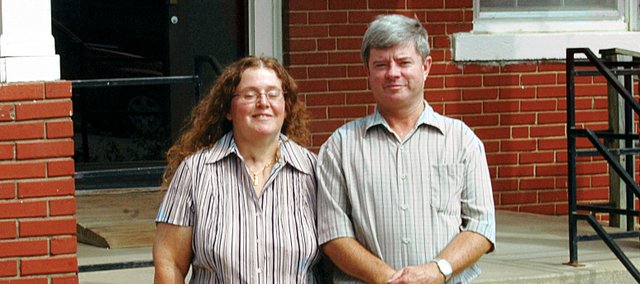 Some families may consider it rude to talk politics at the dinner table, but for Jim and Diane Truesdell, it's become a fairly common occurrence.
With Jim Truesdell serving on the Tonganoxie City Council since 2005 and Diane as Tonganoxie School Board president this year, the couple is uniquely involved in the city's political scene.
According to Jim, evening talks between the two are "nothing too much; kind of just unwinding, especially when we have meetings the same night."
And, while he said half the time they can't understand what the other is talking about, Diane quickly responded, "But we do understand late meetings."
Until recently, those late meetings often coincided. Jim Truesdell said he began attending school board meetings while his three children - Keaton, 13, Lindsey, 15, and Tyler, a 2006 Tonganoxie High graduate - were all still in school. He also volunteered on the city's planning commission and wanted to attend more city council meetings but couldn't because they were held the same night as the school board.
This April, the city council changed its schedule - at Jim Truesdell's request - "so people could attend both."
The city council now meets every first and third Monday of the month with the school board meeting every second Monday.
Diane Truesdell was first appointed to the Tonganoxie School Board in 2006 following former board member Rick Lamb's departure about three months before. She said she had been very active at the schools' volunteer center, adding, "To me, (serving on the school board) was just an extension of volunteering; I didn't have any political aspirations or anything like that."
After a lot of soul-searching - and a little prodding from Jim - she decided to run, and was successfully elected to the board, in April 2007.
Since and before then, the couple has been influential in many large projects and initiatives affecting Tonganoxie residents.
USD 464 Superintendent Richard Erickson said both Truesdells sat on a bond-election committee that supported improvements to THS and Tonganoxie Grade School as well as the addition of Tonganoxie Middle School in 2004.
And Tonganoxie Mayor Mike Vestal said Jim Truesdell was largely responsible for putting the question of a three-quarter-cent sales tax to fund the new Tonganoxie Water Park on the ballot in April 2007.
Residents roundly accepted the sales tax by a two-to-one vote.
At a grand opening for the new pool at this year's Tonganoxie Days, Vestal surprised Jim by handing him the scissors instead of cutting the ceremonial ribbon himself.
"I give credit where credit is due," Vestal explained. " : It (the pool) was a very big project. He should be proud of that : I really admire Jim. He's a really good councilman, and I've learned a lot from him."
Erickson was equally complimentary of Diane Truesdell.
"They've just been very community-oriented people," he said. " : (Diane) is an outstanding public servant, a good board member, a great leader and has her priorities in the right place. She's always striving to do what's best for the kids : There's not very many families that serve their community the way they (the Truesdells) do."
For Diane Truesdell, though, her family is just "a typical, active family, running kids off to sports all the time."
She is a stay-at-home mom, and Jim Truesdell works full-time as a design engineer who inspects construction and bridgework with HNTB Corp.
Because of his association with the large contractor, Jim often abstains from votes like those concerning the County Road 1 project, with which HNTB is involved.
In other instances, such as the Pleasant Street bridge replacement project, he can provide valuable insight from an engineering standpoint to other city council members.
Asked why they feel the need to be involved in city politics, Jim Truesdell noted the myriad issues - "our street network that needs to be improved, economic development, the new swimming pool" - that need to be addressed using Tonganoxie's limited resources.
"I don't think people often realize how important local government is," he said.
It may seem that, as school board president and city council member, the Truesdells would constantly be approached with gripes from citizens or constant ideas on how to improve the state of the city, but, Diane said, "Both Jim and I are very quiet people, so, so far, not so much.
"Even though he's on the council, and I'm on the school board, as individuals we have no power. If they (residents) want to bring us some information, they need to come before the board."
Jim's response?
"You're going to blow our cover," he said with a laugh.