Rec commission sticks with goose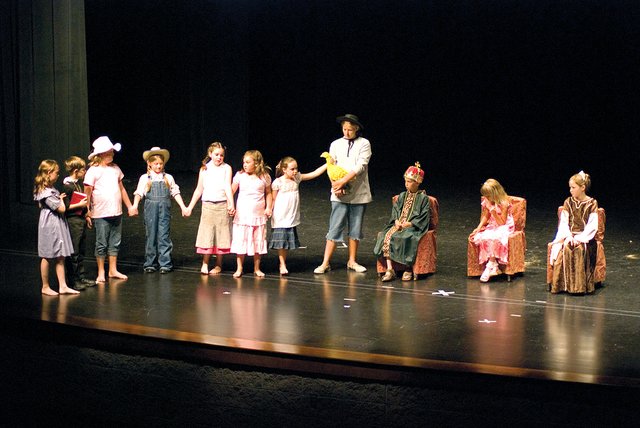 Tonganoxie youth found themselves in a sticky situation this weekend.
On Saturday night, 17 area children participated in the Tonganoxie Recreation Commission's summer theater program when they put on the play "The Golden Goose."
"I thought it went great," said Lori Vicory, the play's director. "The kids worked hard, and they all did a great job. I think it was fun for them. They were a little nervous in the beginning, but I think they all had a good time."
The play followed Frederick Dummkopf's adventure when he is given a golden goose for showing kindness to a strange old man. As people tried to steal the goose's golden feathers they would get stuck to it. And as other people tried to separate people from the goose, they too would get stuck.
Dummkopf and the trail of people eventually found their way to a castle where a princess, who never laughed, caught sight of the parade and laughed for the first time. Dummkopf and the princess were married and he literally whisked her way to live happily ever after.
"I promised I would pick up the princess," said Amanda Mast, who played Dummkopf, about picking up 10-year-old Natalie Wolf.
About 100 people attended the free show that was held at the Tonganoxie Performing Arts Center.