Soccer team goes co-ed for Sunflower State Games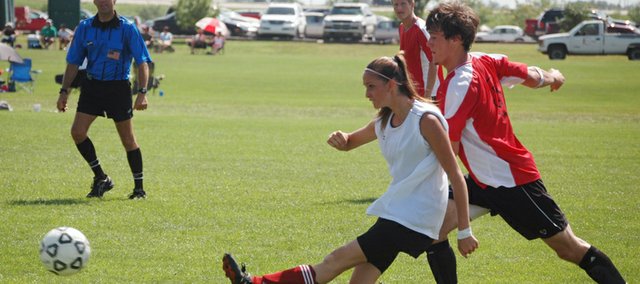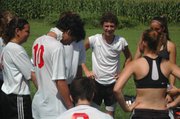 Topeka — A while back, Tonganoxie High soccer coach Ken Lott asked some of his varsity boys if they would be interested in playing in some tournaments this summer, maybe the Sunflower State Games, for instance.
They were interested, but there was a catch. The players would have to double as coaches.
No problem. Bret Koch and Jamison Bloomer volunteered to spearhead the summer campaign in preparation for the fall THS soccer season.
But the guys soon ran into another stumbling block. Numbers weren't that great at practices and they knew they would need some subs for their games in the painfully hot and humid last weekend of July.
That's when they enlisted the services of a few of their female soccer counterparts at THS.
So the boys and girls from THS entered the 19-and-under boys division at the Sunflower State Games this past weekend at the Sunflower Soccer Association Complex in Topeka as a co-ed squad, Tonganoxie United.
With little practice time together prior to the games, the boys and girls from Tonganoxie still managed to go 1-2 on the weekend. In its first match, the United trailed the SM Vikings from Shawnee Mission West by just a goal at the half, but eventually fell, 7-0, on Saturday morning. Later that afternoon, though, they scored a 2-0 victory against Chamego United, another co-ed team from Wamego. The weekend came to an end Sunday morning with a 9-0 setback against Hays Forecast, but none of the players was noticeably disheartened.
Koch said the situation - playing without a head coach and with the girls - made for a loose environment and the players were more concerned with having fun than going undefeated.
"Usually you come out to win, but we came out to see what we had and brought girls with us," Koch said before praising the ladies for their toughness against some talented guys. "The girls are really good."
Added Bloomer: "They're really a good team. They didn't have a problem playing with us."
In fact, he thought playing with the girls really helped the Tonganoxie boys.
"I think it made us better players, too," Bloomer said.
That much was clear on the pitch. Although most of their male opponents were larger and faster, the girls had no problem mixing it up.
On Sunday, Kendra Walters slammed into a Hays midfielder that was twice her size while chasing down a 50-50 ball and didn't even flinch.
De facto girls player-coach Sarah Flaherty, who split goalkeeping duties with Mitch DeHoff, wasn't surprised by the physical play of the slender Walters.
"She's not afraid of anyone," Flaherty said. "She's a beast."
Flaherty was impressed with the way all the girls countered any physical play from the guys.
"All of them got tough with them at one point. I was really impressed," she said, noting that the girls would only take getting pushed around to a certain point. "They're just going to fight back and get a little more mean."
The mean streaks they showed during competition were long gone just minutes later, though, as Flaherty jokingly explained why the girls weren't intimidated.
"We love beating up on the guys. We think it's a lot of fun," she said with a laugh. "We just look at them as really big girls, just maybe a little bit faster."
By the end of the weekend, the girls had impressed their opponents in one way or another. The Hays coach came up to them after the match and told the girls he was proud of them for playing with and against boys when there was a girls-only 19-and-under division available.
But the girls might have made a bigger impression on the boys from Hays. As they walked off the field, ready to return home, some of the Hays players shouted some good-natured one-liners in their direction and one even announced his cell phone number. The United girls couldn't help but laugh and said that getting hit on was one of the "big advantages" of playing co-ed soccer.
More like this story