Spots still available
Chieftains begin battling for playing time at summer camp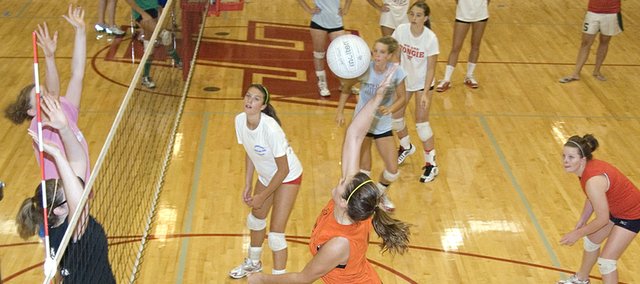 Officially, the fall sports season for Kansas high schools doesn't start until Aug. 18, when practices and tryouts begin. Unofficially, however, competition for roster spots on the Tonganoxie High volleyball team began this past week at the team's summer camp.
The camp definitely had a different feel from the past few years for co-coaches Brandon and Tiffany Parker. While they had a fairly good idea about what kind of team they would be going to battle with in the past, this year question marks abound with eight players departed from last season's 31-13 team that finished third at the Class 4A state tournament.
"We've got so many open spots, varsity-wise, when you lose eight of your nine players," Brandon Parker said, noting that camp provides he and his wife a great opportunity to get a preview of what's in store. "It's a chance to see kids that can potentially step into those roles and see how they 1) perform the skills that we're teaching, and 2) pick up on our team concepts. Then we can also see effort and attitude and just get a feel for the kids."
But the uncertainty of the situation doesn't have the coaches panicking.
"We've had, the last three years, pretty much the same team intact," Parker said. "Now, basically, we're replacing almost all of them. It's good because it gives a chance for new kids to step up into those roles and we have kids who have ability that haven't been able to be seen because they have been overshadowed by the upperclassmen that have been successful for so many years. It's good for them; they get a chance to come out and see what they can do."
The players made the most of that opportunity, and Parker said a few of them really stood out. The coach identified seniors-to-be Megan Puhr and Chrissie Jeannin as the most likely to contribute in 2008 and said that Abby Eisman and Molly O'Hagan also played well at the camp.
"The kids who have stood out play a lot of volleyball. Go figure," he said.
While Parker had a short list of players that impressed, he was adamant that nothing is set in stone.
"There's still a lot of competition with a lot of spots between quite a few players," he said, noting that everyone, even freshmen, are in the mix for playing time. "It's a wide-open deal. Anybody can fill those spots."
The players took that message to heart. They started jockeying for their potential positions at camp. Puhr said she and other players used the camp as an early audition.
"It's an open game right now. We don't know who is going to fill in the spots," she said. "Whoever works hard for the position is going to get it."
Puhr said everyone at the camp had incentive to compete because they knew what could potentially be on the line.
"Parker said this was probably one of the most competitive camps that we've had since he started coaching. There's so many open spots, and anyone could have them."
Puhr doesn't know for certain where or how much she will be playing in the fall, but as a senior she knows that she, along with Jeannin, will be called upon to lead, and Puhr said she and Jeannin made a point to be vocal leaders at the camp.
"We kind of have to be so that we can keep the energy up during games," Puhr said. "Me and C.J. (Jeannin), as seniors, we had to step up our leadership skills because we knew we had to get it started and get everybody involved."
At least the seniors will have that much out of the way when practice officially begins for THS in just a few weeks.