Tony Klamm candidate questionnaire responses
Editor's note: The following are responses to a questionnaire mailed to candidates in the upcoming Aug. 5 primary election. Look for more candidate profiles and full responses to the questions leading up to the primary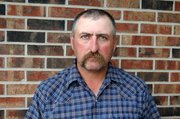 Name: Tony Klamm
Place of residence: Rural Bonner Springs
Birthdate: Dec. 24, 1968
Family: Jeanette, wife; D.J., son; Brett, son
Religion: Methodist
Education: Kansas City Area Vocational Technology School
Occupation: Farmer/realtor
Political and government experience: None
Clubs or organizations: Officer, Leavenworth County Beef Improvement Association; Kansas Livestock Association; Heartland MLS; Kansas City Realtors Association
Why are you running for the commission seat? "This is a critical time for us due to the general economics and high fuel prices, which are increasing the price of goods and services. I believe that I have the abilities to maintain current or improved county services while looking for ways to decrease cost to the taxpayers."
What is your top priority for Leavenworth County? "To make county government more sustainable by promoting efficient operations, cost effectiveness management, and energy savings; maintaining or decreasing the taxes paid per household; attracting industry and jobs to help with the tax burden; and improving overall infrastructure."
The current county commission has committed special sales tax revenue to several capital improvement projects, including the County Road 1 interchange project in southern Leavenworth and a countywide communications upgrade. How would you like to see these projects handled if elected? "The commission's priority should be for the welfare and safety of its citizens and the overall approval of residents for projects and programs. Regardless of their status, both projects should be conducted in a manner to ensure the best quality product and the maximum benefit to the county when completed."
For the past five budget cycles, commissioners have reduced the county's mill levy - of the percentage of assessed value that county property owners pay in property tax each year. What efforts would you make to hold the line on or decrease property taxes, if any? "Although the previous commission reduced the mill levy, the taxes that households pay increased due to increased property valuation and other addons. I would evaluate ways to be more efficient by cutting costs and attracting industry to the area in appropriate locations to help share the tax burden."
Leavenworth County is experiencing a time of residential and commercial growth. What steps might you take to manage that growth? "A county plan with the assistance of the other government agencies is already in existence. Self-sustaining growth should be encouraged without placing undue burden on current property owners. This includes the ability of the county and those cities located nearby to get cost effective infrastructure to developments and commercial areas."
As a county commissioner, you would assume authority over more than 400 county employees - including a newly hired county administrator - and would constantly interact with them, other municipalities' elected officials and members of the public. What kind of leadership, administrative and interpersonal skills do you possess? How would you work with the administrator and county department heads to make decisions and develop/implement policy? "Being self-employed as a farmer and realtor, I use various skills in management, communicating on various levels and self-sufficient operations. Although county administration is charged with the daily responsibilities of management, the commission needs to provide clear, specific guidance to county administration to assure quality and cost effective services."
Are you in favor of locating a combined regional airport and industrial complex in Leavenworth County? Why or why not? "I would support a combined regional airport and industrial complex, because of financial benefits and job opportunities offered to the county's citizens. However, my support would be under two conditions: overall citizen agreement in the project through public participation in discussing it and in the appropriate location."
What differentiates you from the other candidates filing for this office? "As a lifelong resident, I bring long-term perspective and desire for improvement toward more sustainable county services. I believe in the importance of offering job opportunities to young people within our county without jeopardizing the rural flavor or the ability of residents to maintain their current way of life."