William "Bill" Merkel candidate questionnaire responses
Editor's note: The following are responses to a questionnaire mailed to candidates in the upcoming Aug. 5 primary election. Look for more candidate profiles and full responses to the questions leading up to the primary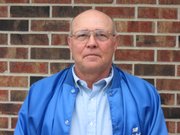 Name: William "Bill" Merkel
Place of residence: Rural Lawrence
Birthdate: April 4, 1943
Family: Married with two children
Religion: Methodist
Education: Some college, paramedic school and various fire schools
Occupation: Excavating work
Political and government experience: Trustee, Reno Township (three years)
Clubs or organizations: Reno Township Fire Department, National Ski Patrol, Red Cross, American Heart Association instructor
Why are you running for the commission seat? "I think it's time to give the voters more say in what is done in Leavenworth County."
What is your top priority for Leavenworth County? "To be open and truthful with the voters! To give the voters more voice in molding the future of Leavenworth County."
The current county commission has committed special sales tax revenue to several capital improvement projects, including the County Road 1 interchange project in southern Leavenworth and a countywide communications upgrade. How would you like to see these projects handled if elected? "I have not seen any voter approval of the County Road 1 project. If the voters were to vote for this project, it would be the commissioners' duty to proceed."
For the past five budget cycles, commissioners have reduced the county's mill levy - of the percentage of assessed value that county property owners pay in property tax each year. What efforts would you make to hold the line on or decrease property taxes, if any? "But, as a general statement, the property valuation has increased because of all the new building, so this still amounts to a tax increase. All these taxes versus value must be balanced. In order to hold the line or decrease property taxes, taxpayer money must be spent wisely and all major expenditures responsibly scrutinized."
Leavenworth County is experiencing a time of residential and commercial growth. What steps might you take to manage that growth? "Leavenworth County needs managed growth to preserve the integrity of the family farm and still allow the voters the ability to be the main voice in government. There needs to be a healthy balance of residential, commercial and agriculture to maintain the quality of life the residents can enjoy for years to come."
As a county commissioner, you would assume authority over more than 400 county employees - including a newly hired county administrator - and would constantly interact with them, other municipalities' elected officials and members of the public. What kind of leadership, administrative and interpersonal skills do you possess? How would you work with the administrator and county department heads to make decisions and develop/implement policy? "I had my own business for several years. I have also been a department manager for a large auto dealership as well as a supervisor at another job. I have always had good relations with others. I also feel if you have good employees, you should look for ways to retain them. Employee turnover is a problem in Leavenworth County."
Are you in favor of locating a combined regional airport and industrial complex in Leavenworth County? Why or why not? "A regional airport this close to KCI, downtown Kansas City and all other major airports in my opinion would be a losing proposition, especially when you are just a few minutes from an international airport. However, after being well informed of both the positives and negatives of such a project, if the voters want an airport industrial complex, then my job would be to find out how to make it happen."
What differentiates you from the other candidates filing for this office? "I don't deal in real estate, I'm not a developer, nor am I in any way connected to a developer, and I sincerely believe in voters' rights. The voters should have the final say in major expenditures and major projects."