History overgrown in cemeteries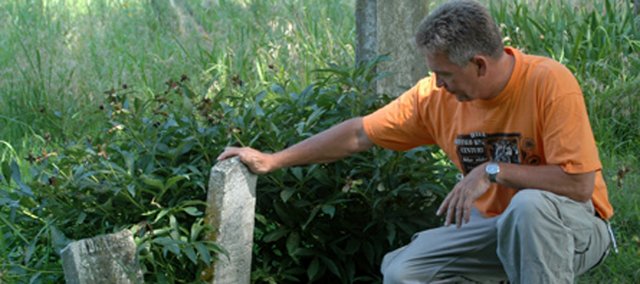 In a remote cemetery several miles west of Leavenworth city limits, a small crew of workers spent several days earlier this month cutting limbs, pulling brush and knocking down knee-high tufts of grass and weeds to uncover long-since neglected headstones dating to the mid-19th century.
Asked whether he felt a bit like Indiana Jones uncovering lost artifacts while trouncing through the cemetery and pointing out sunken burial markers barely visible above the overgrowth, Rick Joyce, the owner of Leavenworth-based Affordable Lawn and Cemetery Care, said, "I don't know; maybe Tarzan if it gets any higher."
Joyce and his private company are one of many groups in Leavenworth County that have taken a more in-depth look recently at how to preserve the numerous abandoned or forgotten cemeteries scattered throughout the area.
County geographic information systems (GIS) director Jeff Culbertson said in the past couple of years, roughly 35 unkempt cemeteries have been identified with the help of volunteers' efforts. His staff will attempt to blend the roughly 40,000 records of burials in rural Leavenworth County cemeteries that have been uncovered with information from larger plots like Mount Muncie Cemetery and the Leavenworth National Cemetery in an attempt to aid residents or genealogists looking for ancestors or other historical information.
"Ever since I've been here, people have come in looking for an ancestor who was buried in Leavenworth County," Culbertson said, adding that ideally, someday, a database would exist where "someone can type in their ancestor's name, and it will tell them who they are and where they were buried."
Leavenworth resident Jim Claunch, an avid genealogist himself, has been heavily involved in the information-gathering process - scouring libraries and archives and gleaning what names and dates he can from aging headstones themselves.
Claunch said there were veterans from as far back as the War of 1812 buried in the county, and Culbertson added that - in at least one rural cemetery in southern Leavenworth County - Union and Confederate soldiers from the Civil War can be found lying side by side.
Unfortunately, Claunch noted, with many of the burial grounds' current state of disrepair, "About 40 percent of (the records of those buried) are gone," and many more records are in danger of being lost.
In the High Prairie Cemetery, about one-half mile west of County Road 29 on High Prairie Road, Joyce's three-man crew was forced to identify many graves by hand, using a pitchfork to locate headstones that had sunk into the ground.
He said the work was difficult, because workers can't just go in and start mowing.
"You can't replace these (headstones), so you have to be extremely, extremely careful going around them," Joyce said pointing out an almost illegible marble marker dated 1865.
Mowers can be used to knock down most of the high grasses, but, in other cases, an entire cemetery must be trimmed using commercial-strength weed eaters.
"You can't just go out and buy a lawn mower and think you're going to go out there and do something effective," Joyce said. "It's just not going to happen."
He noted that the High Prairie project - funded by the High Prairie Cemetery Association - was actually, by comparison, a fairly easy undertaking.
The cemetery can easily be found right off a gravel road, whereas some rural cemeteries are in the middle of a field or on private property, with only ruts from old wagon trails pointing the way.
"I just wish they were all this easy to get to, but that has not been the case," Joyce said.
Financial issues such as what to do with the huge brush piles that accumulate after work is done and who is responsible for funding the cemetery cleanups in general, sometimes complicate other cases.
Closer to Tonganoxie, Marty Trieb, a member of the Stranger Township Board, said the board was setting aside money to clean up Moore's Summit Cemetery, off 207th Street north of town.
Moore's Summit, a 2-acre plot that is now part of the Budenowsky farmstead, used to have a dirt road running along its south side, but now tire tracks are barely visible among the weeds and thistles.
It is completely overgrown, and if someone were to brave the chiggers and the ticks that inhabit the cemetery now, they still might not see the headstones there.
Trieb said he's unsure exactly how many people are buried in Moore Summit, but at least 13 names are documented, including the great-grandmother of rural Tonganoxie resident Walter Lee Denholm, Jane Mitchell, who was born in 1799.
Denholm said it had been a while since he'd paid the burial ground a visit, but he explained, "It's your ancestors. You kind of like to have them (the cemeteries) cleaned up."
As more and more rural cemeteries like High Prairie and Moore's Summit are identified and receive makeovers, Claunch and Culbertson encourage residents with any information on lost or forgotten records to come forward in order to preserve a part of Leavenworth County's rich history.
Claunch said Web sites like Random Acts of Genealogical Kindness (www.raogk.org) had been helpful in his research, and Culbertson said his department always welcomed any additional information that can be brought forward.
Culbertson can be reached at (913) 684-0443.