Primafuel sets sights on more biofuel infrastructure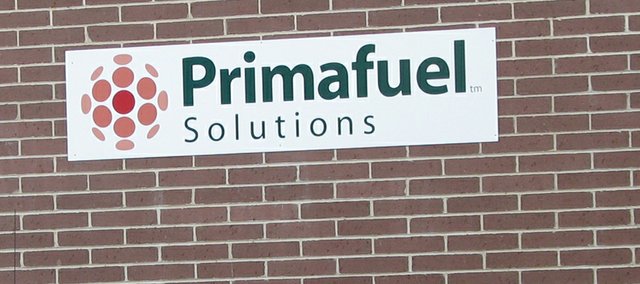 An innovative, global company recently set up a post in Basehor.
Primafuel, a Signal Hill, Calif.-based company working to improve the efficiency of the biofuels industry created a subsidiary, Primafuel Solutions, in Basehor to reach the Midwest market.
"The company was formalized in 2005 with the intention of developing technology and infrastructure based on biofuels," said executive vice president and co-founder Rahul Iyer. "We believe there are a number of barriers to the commercialization of biofuels. One is infrastructure."
Primafuel's focus on infrastructure is what sets it apart from other biofuel companies, Iyer said. While the consumption of biofuels is healthy, the lack of infrastructure to store, transport and introduce the products into the marketplace is a problem. Specifically, they are working on connecting the consumers of biofuels on the west coast with the major producers in the Midwest, he said, by creating new terminal infrastructure.
As for the technology side, Primafuel has two laboratories, one in California and one in Sweden, that are working on ways to help ethanol production companies make more money and reduce greenhouse gases through the development of specialized equipment.
"We launched a subsidiary job in Basehor to take the technology platforms, take them through final engineering and build a business solution around them," Iyer said. "They are manufacturing and selling this equipment to our customers, which are corn ethanol producers."
One of Primafuel Solutions' first products is SMAART Oil, a corn oil extraction solution, which is a modular piece of equipment installed at corn ethanol facilities to extract more fuel from the same bushel of corn. The solution was recently sold to Amaizing Energy, an ethanol production company in Denison, Iowa, and is expected to be up and running at the 55 million gallons per year plant by winter 2008.
"There are a lot of exciting opportunities to add to the economic sustainability, but also add to the environmental sustainability," Iyer said.
The decision to set up shop in Basehor was based on the centralized location and the fact that a few team members already were located in the area. It allows the company to achieve the goal of connecting consumers with producers in the Midwest. Iyer said that while there are only a handful of people now, he expects the office to grow substantially throughout next year. The company also has offices in Manhattan, N.Y. and Beijing.
"That was the biggest driver - to have a centrally located Midwestern hub to travel from and bring people to," Matthew Craig, manager for Primafuel Solutions said.
The creation of the Basehor-based subsidiary brings Primafuel closer to its two-fold goal of dramatically improving the quality and quantity of the biofuels industry. The company brings together experts in several areas to come up with innovative solutions to the biofuels industry, which is critical in helping the United States become less dependent on foreign oil, Iyer said.
"We have applications in today's biofuels and in next generation biofuels," he said. "We see a whole lot of opportunity in bridging the gap helping today's biofuels industry evolve into tomorrow's biofuels industry. This isn't an islanded situation. This involves people from all over looking for a way to find solutions to this problem. Some of which may be discovered in this small town."
For more information, visit primafuel.com.