Lightning strikes Tonganoxie home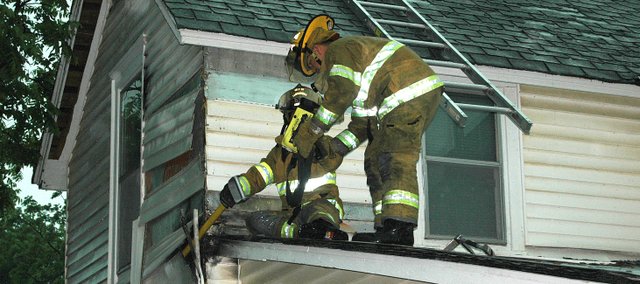 Residents along East Eighth Street in Tonganoxie were startled Monday morning at around 11:30 a.m. when a bolt of lightning struck a home at 830 E. 8th St. owned by Joan Cronemeyer.
Firefighters with the Tonganoxie Fire Department responded to the scene, where they encountered minor structural damage to the roof and siding of the home.
Fire chief Dave Bennett said his crew noticed burn marks where siding from the house had been blown off and used a thermal imaging device to make sure there was nothing still smoldering.
Other than a blown breaker and ripped paneling, though, no other damage was reported.
"They're lucky," Bennett said, from the shelter of a neighbor's garage Monday.
Rhonda Boice, who rents the property from Cronemeyer, would not comment any further than saying that no one was harmed by the lightning strike.