Better than chocolate: Youths earn spots at Hershey's state meet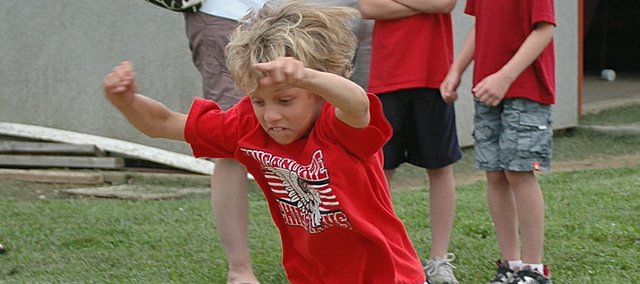 Thirty Tonganoxie youths earned the right to compete in the upcoming state Hershey's Track and Field Games by succeeding at the local qualifying meet Wednesday, May 28 at Tonganoxie High.
By finishing in the top two in the softball throw, standing long jump or running events an athlete received an invitation to move on to the state competition to be held June 20-21 at Shawnee Mission South High.
According to the Hershey's Track and Field Games Web site, local, district, state and provincial track and field meets are held in all 50 states, as well as the District of Columbia and Canada, and more than 400,000 children compete in the Hershey's Track and Field Games annually. State finalists are eligible for selection to regional teams. To ensure fair representation of participants, a minimum of five finalists are selected from each state or province to participate in the Hershey's North American Finals on July 31-Aug. 3 at Hershey Field in Hershey, Pa.
Hershey's Track and Field State Qualifiers
Girls (13-14)
Softball throw - 1. Jo Kissinger, 122-9; 2. Marissa Martin, 97-2
Standing long jump - 1. Megan Zerrer, 6-5
1,600-meter run - 1. Megan Zerrer, 8:21.53
800-meter run - 1. Hunter Cook, 3:15.62; 2. Marissa Martin, 3:16.66
200-meter dash - 1. Hunter Cook, 34.53; 2. Marissa Martin, 35.34
Boys (13-14)
Standing long jump - 1. Conner Kietzmann, 6-9.75; 2. Kevin Jardes, 6-0.5
800-meter run - 1. Conner Kietzmann, 2:50.85; 2. Kevin Jardes, 3:25.78
200-meter dash - 1. Conner Kietzmann, 29.94
100-meter dash - 1. Kevin Jardes, 17.56
Girls (11-12)
Softball throw - 1. Katey Trower, 71-2.5; 2. Kennedy Morey, 64-2
Standing long jump - 1. Emily Williams, 6-1.5; 2. Katey Trower, 5-11.5
800-meter run - 1. Emily Williams, 3:38.50; 2. Kennedy Morey, 4:18.94
400-meter dash - 1. Brenna Kietzmann, 1:21.75
200-meter dash - 1. Brenna Kietzmann, 35.28; 2. Lexis Fehd, 37.47
100-meter dash - 1. Katey Trower, 16.75; 2. Lexis Fehd, 17.34
Boys (11-12)
Softball throw - 1. Jared Sommers, 145; 2. Asher Huseman, 142-2.5
Standing long jump - 1. Kyle Caldwell, 6-2; 2. Justin Brown, 5-9.5
800-meter run - 1. Garrett French, 3:35.18
400-meter dash - 1. Randy Ferguson, 1:29.47
200-meter dash - 1. Asher Huseman, 32.15; 2. Quin Smith, 36.19
100-meter dash - 1. Asher Huseman, 15.34; 2. Quin Smith, 16.46
Girls (9-10)
Softball throw - 1. Emily Jardes, 29-3
Standing long jump - 1. Angela Faherty, 5-8; 2. Nicole Zerrer, 4-10.75
400-meter dash - 1. Alyssa Sharp, 1:24.16; 2. Nicole Zerrer, 1:34.66
200-meter dash - 1. Nicole Zerrer, 43.57
100-meter dash - 1. Angela Faherty, 18.6
50-meter dash - 1. Alyssa Sharp, 9.65; 2. Angela Faherty, 9.72
Boys (9-10)
Softball throw - 1. Brett George, 101-2; 2. Conner Brown, 94-3.5
Standing long jump - 1. Wyatt Zarda, 5-8; 2. Drew Cook, 5-2
400-meter dash - 1. Tyler Novatney, 1:29.25; 2. Martin Reilly, 1:39.97
200-meter dash - 1. Jacob Tollefson, 35.46; 2. Carter Kietzmann, 37.55
100-meter dash - 1. Martin Reilly, 15:09; 2. Jacob Tollefson, 17.15
50-meter dash - 1. Tyler Novatney, 8.97; 2. Drew Cook, 9.07