Bulldogs on display at local sanctioned barbecue festival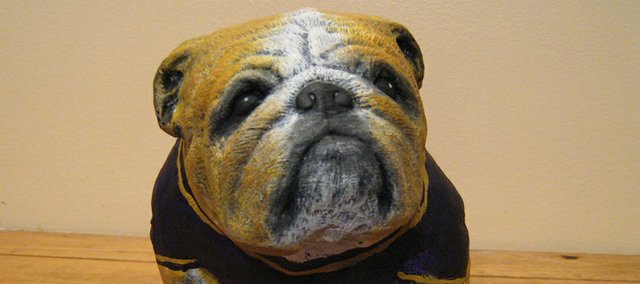 Some unique Bulldogs will be available for purchase Saturday at the McLouth BBQ Blowout.
The McLouth Parent-Teacher Organization will sell 30 concrete McLouth High School bulldogs during Saturday's festivities.
The bulldogs, which each weigh about eight pounds, were painted by MHS art students, as well as by McLouth Elementary School students and others in the community.
Melissa Jolley, outgoing PTO president, said the organization went with the fundraiser after brainstorming about a new way to generate funds.
PTO officials initially looked into a fundraiser along the lines of an art auction. The idea evolved into auctioning off the work of students and others - through the statues.
Jolley said the PTO purchased the statues from an area statue company for $300.
Proceeds from the auction will go back to PTO.
"We're real excited," Jolley said. "We hope people will come out and bid on their children's bulldogs that they decorated."
The bulldogs will have names of the classes that decorated them attached to the statues so parents will know which bulldogs their children helped decorate, Jolley said.
The auction is expected to last from 9 a.m. to 2 p.m. or 3 p.m., Jolley said.
Of course, the auction is just one of several events going on at the barbecue festival.
The 17th annual barbecue competition itself will be held Friday and Saturday, but festivities actually begin Thursday at Prairie Park with a carnival, which will continue through Friday and Saturday also. The Blowout is a Kansas City Barbecue Society sanctioned event and this year will include a contest for novice barbecue smokers. Other events include a motorcycle show, barbecue finger painting for youths, horseshoe pitching competition and various displays.