Carving a stump into a memory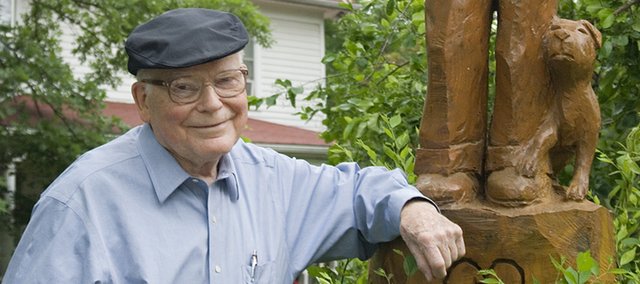 When Westar handed Betty and Phil Stevens lemons, they decided to make lemonade.
Recently, local chainsaw artist Russ Ehart transformed the leftover stump from a Siberian elm tree Phil planted in 1938, into a piece of art that memorializes two good friends the Stevenses lost earlier this year.
Westar told the Stevenses they needed to cut down the tree so it wouldn't interfere with new power lines along Pleasant Street.
"I asked the guys from Westar if they could leave a large enough stump I could do something with," Phil said. "The tree was 70 years old. I would have hated to see it end up in someone's fireplace."
Near the southeast corner of the Stevens' yard, Ehart took a few days in between other projects to carve out a little boy. In the arms of the little boy is a pug, which represents Rascal, one of the dogs the Stevenses lost this year. To the left of the boy is another dog, with its paws on the boy's shoes. That dog represents Shy Guy, a mixed breed dog the Stevenses also lost.
The way the boy is dressed  in overalls and a billed hat was also significant.
"It looks like how boys dressed when Phil was young," Betty said.
Besides the new piece of art, the Stevenses also added something else to their home. In March the Stevens rescued a Border Collie mix they call New Guy.