City Clerk earns
MBA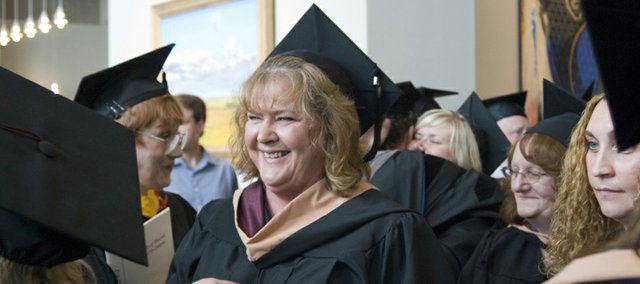 The graduation season wasn't quite over for some people in Tonganoxie.
On Saturday Kathy Bard, the assistant city administrator, received her master's degree in business administration from the University of Phoenix.
"I've been working on it for 20 years," Bard said after the ceremony. "It's always been one of my personal goals to get a master's degree."
The commencement ceremony where Bard received her graduate hood was held at the Overland Park Convention Center. Bard joined the more than 200 other students who received degrees that afternoon.
Bard said that she received a bachelor's degree from the University of Phoenix and for the last two years she has been working on getting her master's.
"Now I'm not sure what I'm going to do with my Thursday nights," Bard said about the nights she used to spend attending classes online.
Now that she has her graduate degree Bard doesn't know what she will do.
"We'll just have to wait and see what happens," she said.