Free their minds and the rest will follow
Tonganoxie javelin coach stays in athletes' ears to keep the pressure off their shoulders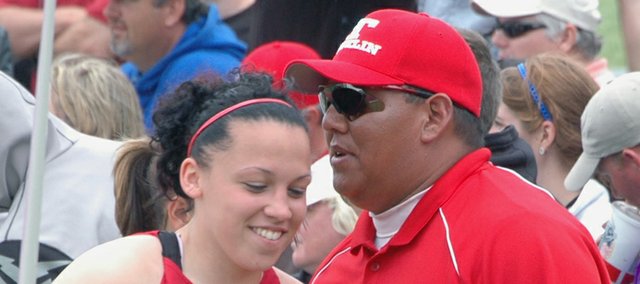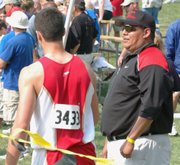 At a high school track and field meet involving the Chieftains, it isn't hard to spot Tonganoxie High's javelin throwers.
Sure, the bright red uniforms with the power "T" across the chest make them an easy target, but what also sets them apart from the crowd is their coach.
Dave St. Cyr, THS javelin coach since 2003, is omnipresent for his throwers during a meet. While many of his counterparts essentially watch from the sidelines as their athletes throw, St. Cyr - usually decked out in his Tonganoxie javelin hat, shades and Nikes to match his red or black THS sports polo - awaits his Chieftain throwers after each and every heave, coaching them and, if need be, putting them at ease as they go.
No doubt, being a javelin thrower can be an exercise in isolation. While most events take place in an enclosed stadium, the javelin is often held in a nearby open area, away from the crowds and the support of teammates.
"In the javelin, you're out there in the middle of nowhere at some of these places," St. Cyr said.
That fact alone makes the coach, a successful thrower at both Lawrence High and North Dakota State himself, quick to stay in the ears of his athletes.
"I don't want the athlete feeling that they're out there by themselves," St. Cyr said. "I've been through it myself : with a bad throw I know what's going on in your mind."
St. Cyr learned a long time ago, from various coaches he played for and coached under, that the best style for him is hands-on.
"I make the pressure on me to have the kids more relaxed," he said, "and I think that's what helps get us better throws and makes us better as a team."
His approach must be working. Roxi Grizzle just won her second consecutive Class 4A state title for Tonganoxie, and Gabe Belobrajdic finished seventh in the state in just his second year of throwing the javelin. Before that there was Ali Pistora (now at Kansas State), who placed at state every year as a prep and traded wins with Grizzle during the 2007 season.
"The last couple of years, having the top two or three throwers and the chance to win state, it's been great," the coach said.
It seems everybody who throws the javelin for St. Cyr has been successful in one way or another. The coach noted the performances of junior Chrissie Jeannin (who placed sixth this year at state), as well as past throwers Tony Aragon, Travis Guthrie, Andrew Miller and others as important parts of what is quickly becoming a legacy at Tonganoxie.
He doesn't claim to be an expert on the subject, but with the results his athletes have seen, he's obviously doing something right. St. Cyr teaches the basic techniques like anyone else. The Chieftains throwers learn to be flingers when it comes to the javelin - "like throwing a newspaper," the coach says - and they learn about proper follow-through and footwork. But the real difference might be St. Cyr's ability to help correct throwing problems on the fly. When throwers from other schools trip up, that might be it for them, but when THS throwers suffer a mishap, St. Cyr helps them immediately correct it.
"I've got that natural knack just by watching the flight of the javelin," he said of his troubleshooting approach.
The only trouble St. Cyr seems to have when it comes to coaching javelin is picking out his favorite moment. He remembers conference and regional championships alike with as much detail as Grizzle's state titles.
"Each meet is special. I like to go to the Kansas Relays, Shawnee Mission North Relays, league," he said, adding that his chief goal is to take as many THS throwers to state as possible every season. "As long as our kids are going after every meet like it's their last, going all out, that's the main thing I like to see."
Inside St. Cyr's home he has a room where he keeps his wall of fame - a constantly growing shrine to the throwers he has coached at regional and state meets during his time at Tonganoxie and, before that, Lawrence High.
"Each one has their own special meaning to me," he said.
With one wall already covered with photos and memorabilia from his time at THS and half the room in need of decorating, St. Cyr doesn't plan on stopping any time soon.
"There's two more walls to fill," he said.