For the record, Tonganoxie athletes had banner '08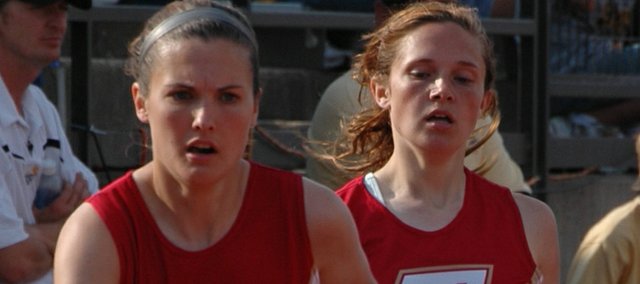 There's an old sports cliche that says: Records were made to be broken.
Not to accuse the Tonganoxie High track team of practicing hackneyed verbiage, but with the season the Chieftains just completed, that old adage might well serve as the theme for 2008.
Remarkably, nine marks in the THS record books were made by Chieftains this season. A quick perusal of the record board at Beatty Field shows an abundance of "08"s next to the names of this year's athletes and the new standards in times or distances they set.
Don't blame girls coach Chris Weller if he is tired from updating all those names and numbers.
"It's really time-consuming changing that record board," Weller joked. "It's a really great problem to have."
Seven new girls records were set this season, which kind of surprised Weller, who said he has never seen a season in which athletes kept improving as the year progressed.
"I thought we would be good, but not that good," he said of the girls' success, which, along with the records, included a regional championship and a fourth-place finish at state.
Of all the records the girls broke this year, the oldest one to crumble was the 4x400 relay time, which had stood since 1982. Andie Jeannin, Megan Puhr, Christina Rubio and Christy Weller now have their names next to the school-record time of 4:06.7.
Their coach said most years his team doesn't even field a 4x400 team, but noted that with Rubio joining the varsity ranks this year, it really improved their chances to perform well in that event.
Christy Weller said the THS coaches pushed them to be better 400 runners this year and said the four girls worked together to become the best.
"Andie and I start and anchor it and our jobs are really important, but our second and third runners are two of the best runners in the state," she said of Puhr and Rubio, who she thought would start or anchor at most schools. "We're loaded."
That statement obviously holds true for more than just the runners. Tracie Hileman set new individual records in the 100-meter hurdles, long jump and triple jump. The departing senior is also the owner of a record not kept on the THS board. She is the girls all-time points leader with 757. Her coach said that number might hold up longer than any others.
"Well, I'll never say never, but I think it will be hard to break," Weller said.
Hileman, who also played volleyball, basketball and softball during her THS varsity career, said track can provide a spotlight that other sports sometimes don't.
"I love working as a team, but it's also cool to know that you, individually, can do really awesome things," she said.
That individual spotlight shined brightest on Roxi Grizzle this season. The state champ in the javelin set a new school mark at Wichita with a throw of 165 feet, 5 inches, also a state meet record. But she knows just how successful the team was as a whole this year.
"We've had a really good season," Grizzle said. "Christy (Weller) has the 800 (Weller set the school record for the 800-meter in 2007 with a time of 2:19), she's really good at that; we've got the (girls) 4x8, and the boys 4x4."
True, the girls weren't the only ones setting themselves apart. A pair of boys records fell, including the dustiest one on the board in the final Tonganoxie event of the season.
Austin Stone, D.J. Lindsay, Bret Koch and Jeremy Carlisle erased the previous best 4x400 time that had been unmatched since 1973 when they finished fourth at state with a time of 3:27.77.
Carlisle, just a freshman, also became the new record-holder in the 800-meter run.
THS boys coach Phil Williams said the record board is full of good performances and supplanting someone else is no small task.
"In most years, especially in the boys, we don't break any records, and if we do, there are only one or two," Williams said. "This year was very unusual, and obviously it reflects on the talent level we have on the team. It's really exciting for the kids to help us put their name on the board in place of someone else's. It is quite an honor."
Girls records
100-meter hurdles - Tracie Hileman, 15.65
Long jump - Tracie Hileman, 17-1
Triple jump - Tracie Hileman, 35-2
4x400 relay - Andie Jeannin, Megan Puhr, Christina Rubio, Christy Weller, 4:06.7
4x800 relay - Andie Jeannin, Megan Puhr, Katie Chenoweth, Christy Weller, 9:57.65
Shot put - Roni Grizzle, 43-6
Javelin - Roxi Grizzle, 165-5
Boys records
800-meter run - Jeremy Carlisle, 1:57.4
4x400 relay - Austin Stone, D.J. Lindsay, Bret Koch
and Jeremy Carlisle, 3:27.7