'

Chieftain pride' camp's rally cry
New coach, a
THS

grad, wants players taking personal stock in program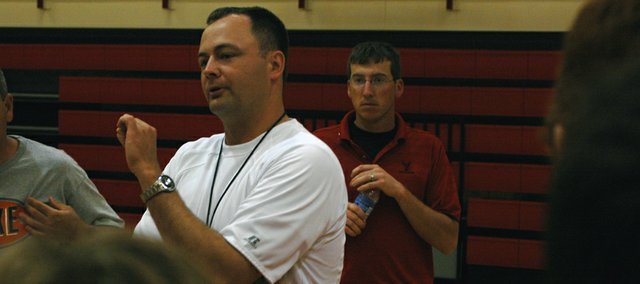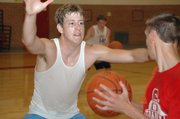 Freshmen, sophomores, juniors and seniors learned about a lot of things from first-year coach Shawn Phillips last week at Tonganoxie High basketball camp.
Sure, there were basketball drills for ball-handling, shooting, teamwork, defense - all your basic camp staples. But after spending Monday through Friday with Phillips, the Chieftains learned that while the new coach cares about all of those tangible skills that make a player and a team successful, there is a state of mind that he has deemed just as critical for the players in his program: Pride.
At the beginning and end of every session - with freshmen in the afternoon and sophomores through seniors in the evening - Phillips brought the players together and broke the huddle with a thematic rallying cry they should get used to hearing: "Chieftain pride!"
The coach, a 1994 Tonganoxie graduate, said the players need to be proud of their program and have a personal investment in what they are doing.
"Without pride, it's not important to you," Phillips said. "In order to be successful - winning and handling our program in general - it has to be important to us. Hopefully we can instill pride amongst the players so that playing for Tonganoxie means something to them."
If it is pride Phillips is preaching, consider the players converted. Pouring with sweat in the THS gym, the 30-plus hoopsters who took part in the prep camps powered through bouts of exhaustion to keep working, showing off the mindset their coach wanted to see.
"Pride," said sophomore-to-be Dylan Scates in between drills, "we're bringing it back to the basketball program at Tonganoxie."
Keaton Schaffer, a rising junior, said having a former Chieftain player as a coach made it easy to get on board with his ideology.
"It means a lot," Schaffer said before pointing out that Phillips has a history of success at THS. "The last time he played (in 1994) was the last time Tongie won the Tonganoxie Invitational."
The coach said he wants to see that kind of success for the players he coaches.
"Our goal is definitely to be playing in the championship game of the Tonganoxie Invitational," Phillips said, "hopefully year in and year out."
Post player Austin Smith said the week of camp was a good adjustment period for returning varsity players such as himself, Schaffer, Jeremy Carlisle, Jamie Everett, Travis Freeman and Jace Waters, all of whom played for previous THS coach David Walker, who resigned earlier this year.
"It's been a learning experience. Coming from one coach to another you've got to adjust some," Smith said, noting that different coaches have various views on basketball, drills and other things. "He's got a different vocabulary and stuff like that. : You've got to mesh. You have to be adaptive."
Smith, who will be a senior, liked having a handful of coaches - Phillips, varsity assistant Brad Kempf, junior varsity coach Brad Shelton, freshman coach Doug Sandburg and John Snapp, who works with junior varsity players in the summer - present at the camp to keep the players on task.
"Having all these assistant coaches here is great," he said, comparing it to small classes that are more conducive to learning. "It's not just one coach trying to spread out across all these guys, you've got a coach at every basket, every spot on the floor helping people individually."
That sort of structure, Carlisle said, has been a defining characteristic for Phillips, who had a specific amount of time scheduled for each aspect of camp to keep everything moving smoothly.
"He likes the small things done," said the guard, who played varsity as a freshman last season. "He makes sure every little detail is perfect. He doesn't waste any time. He wants to get things done and do them right."
If Phillips has his way, the things his players worked on in an empty THS gym at camp this summer will be the prelude to what eventually makes the venue a popular destination for basketball fans this winter.
"I have great memories of that gym being completely filled with people standing in the corners," Phillips said with pride. "It was very exciting, and I'd love for our kids to also have that same experience."