County attorney Frank Kohl files for re-election
Frank Kohl, the lead prosecutor in Leavenworth County for the past 24 years, officially submitted his bid for re-election, filing for office Monday at the Leavenworth County Courthouse.
When asked what he would tell voters to encourage them to elect him to a seventh consecutive term this November, Kohl said, "Experience and proven results."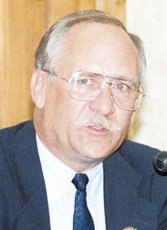 The Lansing Democrat added, "I've devoted 28 years of my life toward making the county attorney's office the best it could be."
Kohl was first hired by the county in October 1980 as an assistant attorney and head of the child support enforcement division after graduating from the Kansas University School of Law in 1977.
He assumed the role of lead prosecutor in 1984.
Since that time, Kohl said, the county attorney's office has undergone numerous physical, staff and operational changes, including a move from the county courthouse across the street to the Leavenworth County Justice Center in 2000.
Under Kohl's tenure, a Leavenworth victim witness unit was created by state statute, and, he said, changes in Kansas' sentencing guidelines in 1993 led to a new grid for sentencing requirements that limits district judges' discretion.
In some cases, Kohl noted, those guidelines have led to shortened sentences for non-violent offenders in an attempt to control the prison population across the state.
Kohl said he was proud to have tried only one of two cases in Kansas where a conviction was obtained without having a victim's body found and to be one of the first attorney's offices to use DNA evidence in a prison homicide case.
He also mentioned his involvement in a 1998 conviction of serial rapist Herbert L. Ruff, who received a maximum sentence of 155 years in prison.
More recently, Kohl said, he assisted in the prosecution of Kevin Skaggs - a Leavenworth man who was charged with molesting an 11-year-old girl in June 2007 - using a large volume of forensic and computer evidence.
He noted a strong, working relationship with local law enforcement and said he is often called upon to provide legal advice to officers at a crime scene.
Kohl was born and raised in Leavenworth; he was a graduate of Immaculata High School in 1970.
He has four children and two stepchildren and currently lives in Lansing with his wife Karen.
Kohl joins former assistant attorney Todd Thompson and Republican Deb Snider, a Leavenworth defense attorney, on the list of candidates for his current post.
A Democratic primary between Snider and Thompson will be held Aug. 5, with Kohl meeting the winner in a Nov. 4 general election.
For more information or to register to vote contact the Leavenworth County Clerk's office at (913) 684-0421.