Kolman, Owsley to continue soccer careers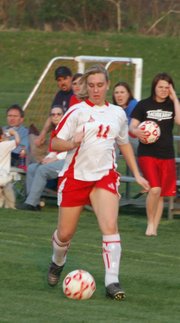 The girls soccer program at Tonganoxie High is in its infancy, but that hasn't stopped it from landing its players in the collegiate ranks.
Two seniors from the 2008 squad - Katy Kolman and Cally Owsley - received scholarships to play soccer at the college level.
"I think it will be good for both of them to get a different feel for what collegiate soccer brings and what kind of commitment it takes," Ken Lott, Chieftains girls soccer coach, said.
With Kolman headed to University of St. Mary and Owsley to Bethany College, the THS program, just two years old, will have four players at the next level this fall. Laura Shuster, a 2007 grad, received a scholarship to play at Barton County Community College and Sarah Flaherty, a 2008 grad, will be playing for Butler Community College although she received a scholarship for softball, which she will also play.
For both Kolman and Owsley, interests other than soccer led to their college choices. Kolman, a former member of the Chieftain Singers was considering USM so she could continue pursuing that interest and was offered some scholarship money for soccer because the Spires staff had seen her play.
Owsley, who is also interested in dancing and was a member of the Chieftain stars, wanted to find a situation where she could play soccer and remain involved with dancing. She now has a chance to do just that at Bethany.
Lott said he was happy to see both players find four-year schools where they can continue their careers.
The coach said he is also pleased with the opportunities the program is already providing for Tonganoxie players. Lott said he contacted several college coaches to let them know about the new program before the first season and that likely got the ball rolling.
"That first year I wasn't really expecting a whole lot," he said, "but it really depends on how you throw names out a lot of times as a coach, who's knocking on the door."
More college coaches came calling in the second season as three Chieftains found avenues to continue their playing careers, but Lott said he had hoped to have even more seniors moving to the next level in the fall. Notably, leading scorer Alexa Moreno seemed a likely candidate to play collegiately, but Lott said she decided to take a year off and he hopes she will end up playing somewhere.
Still, the coach is happy with the state of the program. The team went 6-9 in its first year, 6-11 this season and won a postseason game each year.
"We're about where I expected us to be this year," Lott said. "As far as the program goes, I'm pretty happy with what it's done for the student-athletes."
Although the number of players garnering scholarship opportunities probably won't keep expanding next year because there were just two juniors - Jordan Gagne and Addy Phelps - on the 2008 varsity roster, Lott thinks the program's exposure should grow and collegiate opportunities will increase during the next few seasons.