McLouth teen killed in double shooting
Incident occurred during robbery, authorities say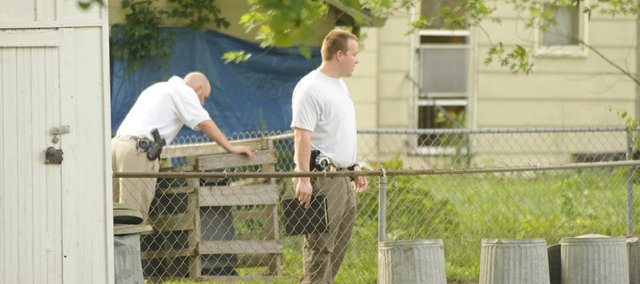 The police are gone and so is the yellow crime scene tape.
On Monday, the only reminder that two people were shot to death Saturday at 1311 Delaware Street in Lawrence were two bunches of flowers placed on the front porch and a handwritten sign taped to the porch railing.
"Roland, RIP
"We will remember"
A small group of people stood in the driveway at the house and quietly talked about their friend, Roland Klundt, 20, a Baker University scholarship student and 2006 Lawrence High School graduate.
"There is no way to express what an incredible person he was," Rachel Buckner said.
Klundt was shot to death early Saturday morning in what Lawrence police described as a robbery. Also killed was one of the suspects, Gage Hauk, 18, McLouth, police said.
Klundt was identified by friends as the victim occupying the house, but police said they were still waiting for confirmation of the identity from the Douglas County coroner.
Late Monday, Kellam D. Jones, 16, Lawrence, was charged with two counts of felony first-degree murder and one count of attempted aggravated robbery.
A trial in juvenile court has been scheduled for later this month for Jones, who will continue to be held in the Douglas County Juvenile Detention Center. District Court Judge Peggy Kittel ruled Tuesday that he is a risk to the public safety.
Jones' court-appointed attorney, Craig Stancliffe, entered pleas of "not guilty" on behalf of his client to two counts of felony first-degree murder and one count of attempted aggravated robbery.
Kittel set the trial for June 23.
The law allows someone to be charged with murder in the commission of a felony even if the murder wasn't committed by their hand.
Jones is charged as a juvenile, but prosecutors can file a motion later to have him charged as an adult.
Prosecutors have the option of filing a motion to have Jones tried as an adult. A spokeswoman for the district attorney's office said that option is being reviewed.
Attending Jones' hearing was his mother, Rhonda M. Dolan. Earlier Tuesday outside her Lawrence home she said she didn't believe her son was guilty. She said she spoke to her son when he was being questioned by police on Sunday. She said he had always been a pretty good boy.
"He said, 'Mom, I didn't do it,'" Dolan recalled.
Hauk and Jones allegedly went to the Delaware Street home to commit a robbery, police spokesman Sgt. Paul Fellers said. The occupant shot Hauk. Then, Jones shot the occupant and fled on foot, Fellers said.
An investigation led police to Jones on Sunday, Fellers said. After questioning, he was arrested.
Police found a shotgun in the house and evidence that a second weapon was involved. A rifle was later found about a block away Fellers said. The man in the house was acquainted with Hauk and Jones, Fellers said.
"I think it would be fair to say they were known," he said.
Police responded to the 1300 block of Delaware about 2:45 a.m. Saturday after receiving several reports of gunshots in the area. A neighborhood search led to the discovery of the two bodies, Fellers said.
An older model Acura Integra parked along the side of 14th Street west of Delaware was towed away by police Saturday. Fellers said he had no information about whether it was involved in the shooting investigation.
Police are continuing to investigate the case, and anyone with information is asked to call investigators at (785) 830-7430.
Before the Delaware Street incident police were investigating reports of gunshots fired in the area of 19th and New Hampshire streets. Fellers said police are investigating that shooting and the Delaware Street shooting as two separate incidents.
Klundt lived in the house with his brother, Levi Klundt, friends and acquaintances said. The two had lived there since last summer. Levi was not at the house when the shooting occurred. The brothers often had friends over, and they were pet lovers. They sometimes had several cats, a dog and ferrets, friends said.
Ryan Storck described Roland Klundt as one of the most interesting people he's ever met and a whiz at math.
"He was so alive until a few days ago," Storck said. "I still can't believe he's gone."
"Things like this shouldn't happen to people like Roland," said Ryan Townes, another friend.
In McLouth, Hauk's relatives also were grieving. He had a huge family, including his mother and two little brothers, said his aunt, Kobi Shelton. He also had a young daughter.
"Unfortunately, all it takes is meeting one bad person to make something go bad in his life," she said. "He is a good-hearted, good kid who has a strong, loving family behind him."
Jamie Stauch, a longtime family friend, agreed.
"People make bad choices, but that doesn't sum up their life," she said.