Softball or soccer? Flaherty says: How about both?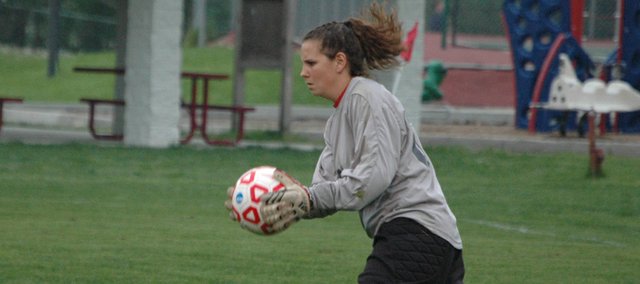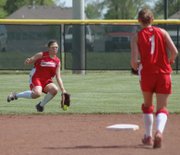 First Sarah Flaherty fell in love with soccer.
Then she was equally charmed by softball.
Now, after devoting her prep career at Tonganoxie High to both, the love triangle will continue as she moves on to Butler Community College in El Dorado, where she will play for the Grizzlies in soccer and softball.
"Soccer was definitely my first love with sports," Flaherty said. "I started playing that way before I even knew that softball existed."
A goalkeeper on the pitch and a utility player on the diamond, Flaherty embarked on her soccer career at the age of nine with dreams of one day making the women's national team. It wasn't until 12 that softball became an attractive option for her and she added that skill set to her sports repertoire.
By the time she reached high school, she was more than capable at both sports and already contemplating the idea of continuing her dual careers past high school. She continued to develop as an athlete as her Chieftain career continued and when it came time to pick a sport and a college, Flaherty decided to play both at Butler.
"Truthfully, I couldn't really decide which one I'd rather go on with," she said of her reasoning to take on two sports when most people have enough trouble mastering just one. "This will be cool to do in college, just to go out and have fun with."
Cool? Yes.
Easy? No.
While Flaherty at least won't have to play two seasons at once as she did the past two years at THS (soccer took precedence over softball when the two conflicted during her senior campaign), playing soccer in the fall semester and softball in the spring at BCC could prove a difficult task.
"It will keep me really busy. I've already seen my soccer schedule for workouts. All I can say is that I'll definitely be in shape for softball," Flaherty said, noting that she already has began assigned individual workouts on her own in preparation for August, when she will report to her dorm and start team workouts.
The Butler softball team plays exhibition games during the fall semester, but Flaherty said she would not try to play for both teams at that point. She most likely will concentrate on soccer in the fall and wait until the end of that season to dive head-first into softball activities and responsibilities.
Although Flaherty was first contacted by the Butler soccer team, it was the softball program that offered her a scholarship. She was up front with softball coach Doug Chance and soccer coach Adam Hunter and told them she wanted to play both sports. The two talked about it and thought that it could work.
Ideally, Flaherty wants to contribute as a freshman for both teams, and she found out from Hunter that she would definitely have that chance for the soccer team this fall. During the recruiting process, the BCC coach told her the team might lose its starting goalkeeper and when Flaherty went to register for classes she found out that indeed was the case.
"That's a big, kind of nerveracking step for me," Flaherty said of the challenge, adding that she hopes to help her team to a winning season during her first year in goal.
However, she has been promised nothing in softball. As far as individual goals in softball go, Flaherty, who played in the outfield, where she was needed for THS as a senior, said she wants to play second base at BCC, but will be happy if she can earn a starting role anywhere on the field.
"Hopefully, I can beat someone out of a position," she said.
Once her two years of junior-college eligibility are through, Flaherty wants to transfer to a four-year school and continue playing.
"For what sport, I have no clue," she said, indicating that she may choose one, the other or both, depending on how things work out in her Grizzly career. "It would be awesome to do either one at a Division-I school."
With enough success at Butler, Flaherty will continue her two-sport love affair at her next stop - wherever that may be.
"If I can get away with it," she said, "I'll stick with both as long as I can."