Tonganoxie library closes book on Moreland's stay with celebration
Outgoing librarian lauded for proactive approach during tenure with Tonganoxie
Sharon Moreland's chapter in the story of the Tonganoxie Public Library ended Friday after four-and-a-half years as city librarian.
"It has been an amazing journey," Moreland said at an open house, held Thursday in the library's community room for her departure. " : I've had a very supportive and forward-thinking board that's allowed us to run with any new idea or new service I could dream up."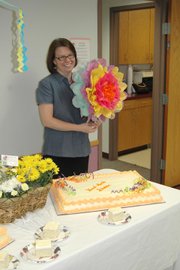 Under Moreland's leadership, the library has undergone dramatic changes including new DVD, music CD and Spanish collections, a new circulation desk and new cataloguing software through NExpress libraries, a partnership of 13 community libraries in northeast Kansas.
A bit of a technophile, Moreland assumed her new role as technology consultant at the Northeast Kansas Library System in Lawrence Monday.
"I like to play with technology," Moreland said, noting her interest in social networking Web sites like MySpace and Facebook.
She added that with a mother who was a computer support librarian at Kansas State University, "I guess you could say it's in my blood."
Many of the library board members and friends of the library that gathered Thursday to wish Moreland well said they were sad to she her go but excited to see her advance to the next stage in her career.
"Tonganoxie has been really, really fortunate to have Sharon," Carol Sorensen, a board member, said. "She's done excellent things for the library and this community."
Jim Morey, who was president of the board at the time of Moreland's hiring, said, "It's the best decision we ever made, and this is the best decision she's made. It's been a very serendipitous four years."
The director of the Northeast Kansas Library System, Jim Minges, who inherited Moreland, said, "She's a real talent. She's been a real leader amongst the libraries in our system : and she's done a tremendous job of moving this library forward."
Until another librarian is hired, Claudia Campbell, the board's treasurer, will serve as interim director.
Sorensen said the board has placed ads, requesting applicants with a master's degree and five years of experience in the field, and, she added, interviews could start within three weeks.