Final candidates file for local offices
With the passing of a noon filing deadline Tuesday, June 10, a list of candidates for elected Leavenworth County officials is complete - with two new contenders for the County Commission 3rd District seat.
Tony Klamm, a rural Bonner Springs Republican, submitted his bid for the position, which will be vacated in January 2008 by current commissioner Dean Oroke, on Monday. He was joined by Pete Henderson, a Basehor Democrat seeking the seat.
A wheat, corn and cattle farmer who also works in real estate, Klamm was born and raised in Leavenworth County.
He said of his decision to run for county commissioner: "I just want to try to help out the county and hopefully do some good.
"The county just has a lot of issues that need to be addressed."
Klamm said he would be committed to reducing spending in an effort not to raise taxes.
"I realize roads are a big issue," he added, "but we can't just go around paving every road in the county - it's just unfeasible - but we can make some improvements."
Klamm lives west of Bonner Springs with his wife, Jeanette.
Henderson is the lone Democrat to file for the 3rd District post.
The 66-year-old moved to Basehor a little over three years ago from Wyandotte County after retiring from the insurance industry.
"Basically I'm (running) to give Democrats, Independents and moderate Republicans a choice in the election and maybe bring some fresh eyes to the public office," Henderson said.
For Henderson, like most of the seven other candidates, serving on the commission would be his first political experience, but he said he considers himself to be politically conscious and noted his experience as a Basehor precinct board member and vice chair of the Leavenworth County Democratic Party.
A primary election Aug. 5 will determine the Republican nominee for the 3rd District, which encompasses the southern half of the county, including the cities of Basehor and Tonganoxie.
Frank Kohl files
Frank Kohl, the lead prosecutor in Leavenworth County for the past 24 years, officially submitted his bid for re-election, filing for office June 9 at the Leavenworth County Courthouse.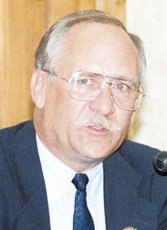 When asked what he would tell voters to encourage them to elect him to a seventh consecutive term this November, Kohl said, "Experience and proven results."
The Lansing Democrat added, "I've devoted 28 years of my life toward making the county attorney's office the best it could be."
Kohl was first hired by the county in October 1980 as an assistant attorney and head of the child support enforcement division after graduating from the Kansas University School of Law in 1977.
He assumed the role of lead prosecutor in 1984.
Since that time, Kohl said, the county attorney's office has undergone numerous physical, staff and operational changes, including a move from the county courthouse across the street to the Leavenworth County Justice Center in 2000.
Under Kohl's tenure, a Leavenworth victim witness unit was created by state statute, and, he said, changes in Kansas' sentencing guidelines in 1993 led to a new grid for sentencing requirements that limits district judges' discretion.
In some cases, Kohl noted, those guidelines have led to shortened sentences for non-violent offenders in an attempt to control the prison population across the state.
Kohl said he was proud to have tried only one of two cases in Kansas where a conviction was obtained without having a victim's body found and to be one of the first attorney's offices to use DNA evidence in a prison homicide case.
He also mentioned his involvement in a 1998 conviction of serial rapist Herbert L. Ruff, who received a maximum sentence of 155 years in prison.
For a profile of Ted Ingerson, a Republican running for state representative, go to www.tonganoxiemirror.com. The profile also will run in the June 25 print edition of The Mirror.