Final cleanup of oil spill will be completed in coming days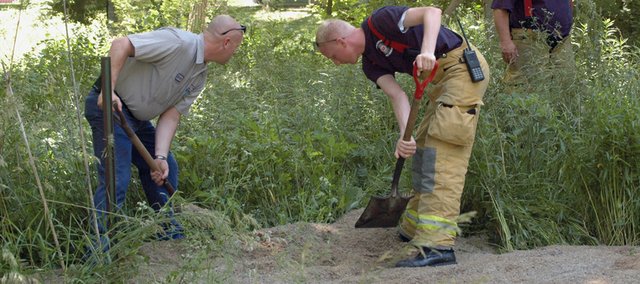 Tonganoxie firefighters will be playing the waiting game in cleaning up an oil spill that occurred near Tonganoxie Creek on June 18.
An estimated 300 gallons of asphalt treatment substance spilled near the creek, prompting fire department crews to throw down a sand mixture to prevent the spill from contaminating the creek. Firefighters will let the mixture dry in the coming days and will remove it at that time.
Tonganoxie Fire Chief Dave Bennett said he received a call about 11 a.m. on June 18 that the spill had occurred. He said tack oil, which is a substance road crews use to bond existing asphalt to new asphalt being applied to roads, spilled from a city vehicle carrying the substance.
The spill occurred northeast of the Tonganoxie City Fire Station near a low-water bridge in the creek.
Bennett said it appeared that residual oil from the valve warmed up from the outdoor temperatures and leaked from the city vehicle, which was parked in an open area next to a wooded area by the creek. A gravel lot between the fire station and the creek also contains storage of a sand-salt mixture the city uses to treat roads in the winter.
Some of that sand was poured in the wooded area. Firefighters used the sand, as well as equipment known as gator tails, to absorb the spill in what Bennett estimated to be about a 1,600 square-foot area. The gator tails, which are a few feet long and resemble elongated sand bags, have a substance in them that absorbs the oil. Dikes were built with the sand for the gator tails and sand was then used as "backfill," Bennett said.
Bennett contacted Kansas Department of Health and Environment officials, as well as Leavenworth County Emergency Management director Chuck Magaha, for additional evaluation of the scene. Hazardous material officials from Olathe also inspected the scene.
"They said everything we did, there was no more they could do," Bennett said. "And in a couple days we'll go in and remove the sand and the dirt and spread it out and let it dry out some more and pull it up from where it was at."
Bennett said the oil did not seep into the creek and the treated area does not pose any risks to residents.
On Tuesday, Kathy Bard, assistant city administrator, said the spill had been contained and city crews were still waiting for everything to dry.