Himpel leads Kansas all-stars to softball victory
Tonganoxie grad goes 3-for-7 in 2-0 sweep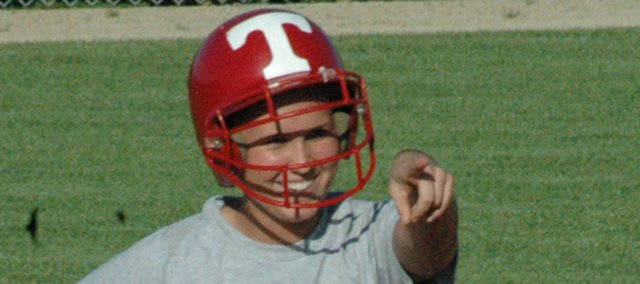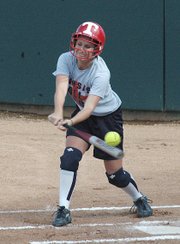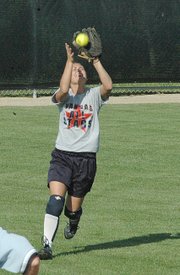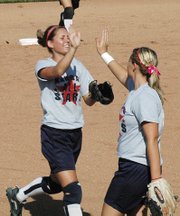 Shawnee — On a roster filled with players from Class 6A and 5A schools, Tonganoxie High senior Lindsey Himpel was one of just two small school representatives in the MO-KAN All-Star Softball Series at the Shawnee Mission District Softball Complex.
Her school may be small, but Himpel's game was plenty big on Monday evening as she helped lead the Kansas All-Stars to a 2-0 sweep of Missouri in the best-of-three series.
Kansas won the opener in extra innings, 3-2, and then rolled to a 6-2 victory in game two.
Himpel, a Washburn University signee, had the second most lethal bat in the Kansas lineup as she went 3-for-7 with a double, a run and an RBI. A diving catch down the third base line and a questionable call on a close play at first kept an already stellar stat line from entering the jaw-dropping category.
As her stats indicate, she never was concerned about fitting in with players from the state's traditional big class powers.
"I've played with a lot of these girls over the summer, so you know that you can measure up with them just as well," she said. "It's just nice to see that small schools still get recognition."
Joining Himpel from Class 4A was Kaw Valley League rival Chelsey Patton of Basehor-Linwood. Patton also represented with a solid bat as she went 2-for-3 and scored twice.
Himpel also was one of just a few girls to play every inning of both games. Her speed had everything to do with that, she said. In addition to being a threat on the base paths, she roamed center field and made numerous catches.
"Looking at the roster early on, there were only two listed outfielders," she said. "Before the game (Olathe Northwest coach Mark Mahoney) asked 'Who primarily steals?' I was like, 'Well, I do.' It was one of those things where you kind of need a fast kid in the lineup where you can get on base and steal and talk and stuff."
Missouri pitcher Erica Deeney (Oak Park) worked a one-hitter through five innings in the first contest. A leadoff single by Olathe East's Michaela Hupp in the bottom of the sixth set up Kansas' first run. Patton entered as a pinch runner, but she paused to strategize with Himpel before taking the base.
Patton stole second on the first pitch. On the next Himpel executed a perfect sacrifice bunt and moved Patton to third.
"We kind of planned that," Himpel said. "Chelsey's fast enough that she could get there, and it's easier when you don't have someone swinging, so we scripted it so we could get her to third with my bunt."
The strategy worked. Patton scored and gave Kansas a 1-0 lead.
Missouri tied the game in the top of the seventh on a solo home run by Laura Greenfield. The game went to an extra inning and used international tiebreaker rules where each team starts with a runner on second.
Missouri scored a run in the top of the eighth, but Kansas countered with a pair of runs. The first scored when Himpel laced a one-out double to left field. Ingle then hit a two-out single that plated Shawnee Mission South's Maggie O'Neal for the victory.
There was significantly less drama in game two. Patton hit a leadoff single in the third inning that sparked a three-run burst for Kansas. Missouri countered with a run in the top of the fourth, but a leadoff single by Himpel in the bottom of the inning ignited another three-run burst and gave Kansas a 6-1 lead. That margin stood until the top of the seventh when Missouri plated another run.