Role playing games: Tonganoxie High girls basketball camp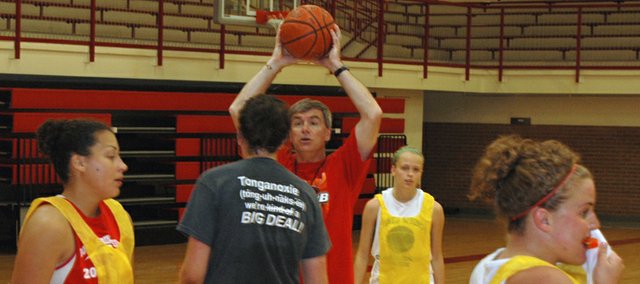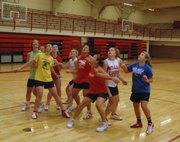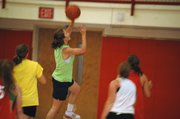 As coach Randy Kraft took in his surroundings this past week at his Tonganoxie High girls basketball camp, he may have done a double take.
Missing were Liz Baska, Shannon Carlin, Tracie Hileman and Christy Weller- four players who graduated from THS in May and helped lead the Chieftains to a 42-7 record over the course of the past two seasons.
If that was the case, the seventh-year Tonganoxie coach didn't let anyone know it. There was no visible moping or distress. He just looked at the four days of camp as a chance for the returning players with varsity experience to find their niche.
"Every year we've got kids coming in who have to play a different role," Kraft said. "On this year's team, compared to what it was last year, it's kind of an introduction to them to go ahead and start them in that role and give them an idea of what they're going to be doing, what the challenges are."
Chrissie Jeannin, Roni Grizzle, Lindsey Fatherley, Andie Jeannin, Abby Eisman, Lauren Hall and Madi Yates - whom Kraft described as the "core" group of players for the upcoming season - have varying ranges of varsity experience but all can expect larger roles once the season starts in late fall, and even-younger players eventually will join them in the regular rotation.
"We're definitely a different team than what we've had," Kraft said. "Our two seniors (Jeannin and Grizzle) have got to be the core of this team. They've got the experience, and with the other kids learning to play around them we'll be able to utilize everybody's strength."
Jeannin, the Chieftains' lone returning starter who has been known for setting others up and playing unselfish basketball, said she would be playing a completely different part in her senior year.
"Last year I was the point guard and just got everybody the ball and scored when I could," Jeannin said. "This year, there's a lot more on me because I'm the only returning starter coming back. It's going to be a lot more pressure on me to get rid of the ball and score more."
Any pressure she feels could be relieved if the players around her develop into capable threats on the floor, and Jeannin said just being a part of the varsity team last year should help them assimilate to new responsibilities.
"A lot of them didn't really play a lot, but they got enough to experience it and everything," Jeannin said.
Grizzle, Tonganoxie's other senior, who played significant minutes off the bench last season, will likely find herself in a starting post position this year as well as a new leadership role.
"Last year I was kind of on the backburner. This year C.J. (as Jeannin is called by her teammates) and I have to take the lead out there on the court," Grizzle said, adding that their familiarity with the THS system will be relied upon at practices, as it was at camp, and the seniors will keep the underclassmen in line as they make the transition from spectators to starring roles.
"We've been there, and we've done it. We'll help them out," Grizzle said, noting the seniors' input would supplement the coaching staff. "I think it's easier for them to learn from two perspectives."
Jeannin said some less-experienced players started developing at camp.
"There's a lot of players that are being really aggressive and just playing all out," she said.
Grizzle agreed and identified a fellow post player who impressed her at camp with her play in the paint.
"Lindsey Fatherley's really stepping up," Grizzle said. "This year she's got a few post moves and she's putting it up around the basket and putting it in half the time."
That kind of summer productivity is exactly what Kraft wanted to see at camp. As the players get comfortable with their own roles, Kraft said, the entire unit can start to develop some chemistry that will carry over to the season.
"I think it starts right now," Kraft said. "The team starts to get their identity, starts to define their leaders and understands the expectation level for them."