Wait a minute Mrs. Postwoman
Longtime postal worker hangs up mailbag after 30 years; reception is Saturday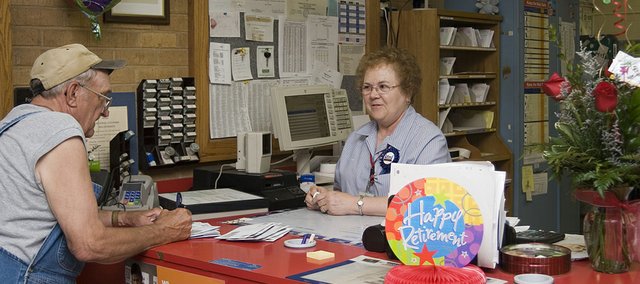 A familiar face downtown will soon be leaving her station behind the counter at the post office.
After 30 years of service for the U.S. Postal Service, Shirley Martin will retire at the beginning of July.
"There have been a lot of changes since I've been here," Martin said on her last working day on May 30. "I've helped a lot of nice people. It's been great working here."
Some of the changes she's seen since 1978 include four different postmasters and an increase in postage from $.15 to $.42 for a first-class stamp, along with tremendous growth in the city.
She recalls a time when John White was the postmaster and there were only three routes in the city. She also remembers that employees were able to sort every piece of mail by hand.
Now with six routes, she said she had been coming in at 5:30 a.m. to start sorting the mail six days a week.
Ron Hubbard, the current postmaster, joked that he was jealous of her retirement and said she was going to be missed around the office by the other employees and by residents.
"I know we will still be getting phone calls with people asking, 'Is Shirley there?'" Hubbard said.
Although she will not be working at the post office, Martin said she would continue to work. She still has her part-time job as a cashier at Nebraska Furniture Mart at Village West. Since her last day in May, Martin has been using her built up vacation time to take a month-long vacation.
"I'm loving it," Martin said Tuesday. "I'm liking not having to get up at 4:30 in the morning."
A reception honoring Martin will be held from 9 a.m. to noon Saturday at the Ratliff Drugstore. The reception is courtesy of the postal employees of the Basehor and Tonganoxie post offices and Martin's daughters.
She said she wanted to leave without a lot of fuss, but she knew it would be hard after spending so much time on Fourth Street.
"It's been a good 30 years," she said.