Commissioners finalize
CR1

payment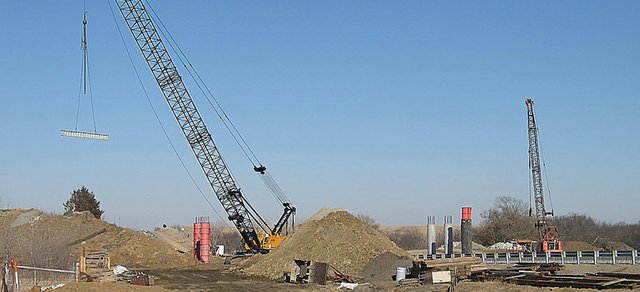 Leavenworth County commission chairman Clyde Graeber unveiled "the best figure we (the board) have at this time" in regard to the county's official pledge of special sales tax revenue for the County Road 1 interchange project in southern Leavenworth County in a regular meeting Thursday.
After ratifying a $16.7 million contract for all construction costs for the interchange project with Perry-based Hamm Construction Inc. and the Kansas Turnpike Authority Thursday, June 12, and, on the heels of confirming settlements for right-of-way acquisition with 16 property owners along County Road 1 in the amount of $363,517, commissioners said the county's total contribution for the project should amount to $8.837 million.
That figure includes all engineering costs, right-of-way acquisition and construction for the project, including a tie-in with U.S. Highway 24-40 by way of a realigned Honey Creek Road.
The county's blow was softened by contributions of $2 million from the KTA, $1.5 million from the City of Tonganoxie, $910,000 from the Kansas Department of Transportation and $490,000 in federal earmark funding.
"I think it's a good, fair price," Commissioner Dean Oroke said of the revised price tag, noting that commissioners, at first, projected an $8 million expenditure for the project before a stretch of County Road 1 south of I-70 and a realigned Honey Creek Road were added. "I think it's a road that will be much, much safer for six miles than it was in the past."
Also on Thursday, the board approved three temporary use permits for commercial fireworks stands, discussed the possible sale of the former county infirmary at 1830 S. Broadway St., Leavenworth, reviewed bids for janitorial services on county property and met in an extended executive session with members of the Leavenworth County Port Authority's Land Search Committee.
For more on Thursday's meeting, check back on this Web site or pick up a copy of next week's Tonganoxie Mirror or Basehor Sentinel.