Brownback pans report on transferring detainees to Fort Leavenworth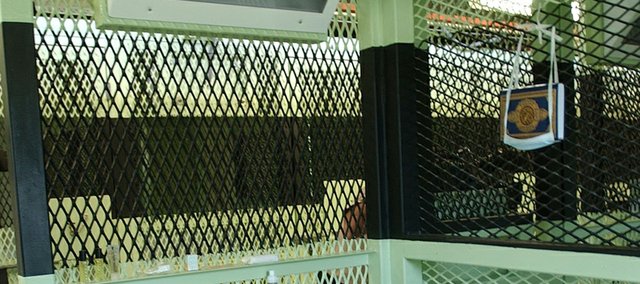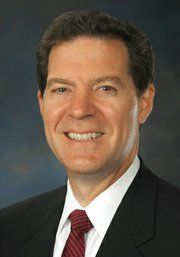 A Washington think tank's assertion that detainees at the Guantanamo Bay detention facility could be transferred to Fort Leavenworth brought a quick rebuke from U.S. Sen. Sam Brownback.
A report from the Center for American Progress recommended detainees slated for trial in military courts be transferred to the U.S. Disciplinary Barracks at Fort Leavenworth. According to the report, the barracks "could easily accommodate the relatively small number of detainees that would likely be transferred from Guantanamo to face courts-martial at its 515-cell compound."
"Today's CAP report is misleading and inaccurate," Brownback countered. "Contrary to this report, Fort Leavenworth has neither the space nor the security arrangements to handle detainees from Guantanamo Bay."
Brownback pointed out the maximum-security wing at the Disciplinary Barracks has a capacity of less than 30 prisoners, and many of those spaces are now occupied by military prisoners who cannot be transferred elsewhere. The rest of the Disciplinary Barracks provides medium-level security. Eighty percent of Fort Leavenworth's prisoners have some freedom of movement throughout the facility.
Also, the Disciplinary Barracks does not provide a self-contained detention operation. Unlike Guantanamo Bay or the Colorado "supermax," another prison recommended in today's report for housing the Guantanamo Bay detainees, the Disciplinary Barracks lack 24-hour medical care facilities or an emergency room. Prisoners needing such medical services must be treated outside the walls of the installation, Brownback said.
"I am disappointed that policymakers and analysts continue to talk about Fort Leavenworth as a place to house detainees without visiting the facility," Brownback said.
"In-person visits will confirm why the Disciplinary Barracks do not meet the security requirements necessary to perform this mission, even if Guantanamo Bay were to close."
The report's author, Ken Gude, is the associate director of the International Rights and Responsibility Program for the Center of American Progress. He contributed to the forthcoming book, "Protecting Democracy: International Responses."