Bad Apples train underground for
MMA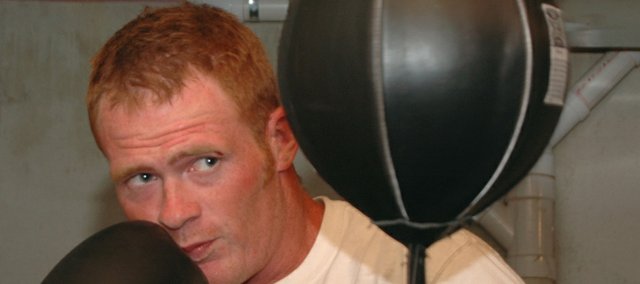 Photo Gallery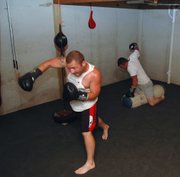 Bad Apples train for Sedalia Smackdown
The Bad Apples mixed martial arts fighting team of Tonganoxie trains in the basement of their trainer Keith Carlson's suburban home. The Bad Apples - Bill Folsom, Thomas Adkins and Steven Adcox - will all fight at the Sedalia Smackdown on Saturday in Sedalia, Mo.
On a warm Friday evening, people mow their lawns, walk their dogs and wash their cars on the suburban streets of the Stone Creek housing development in Tonganoxie.
It's a pleasant, Anytown, USA type of scene. But as the suburbanites lackadaisically enter weekend mode, in the basement of one home on Rock Creek Drive something far less ordinary and far more intense is going down.
Steven Adcox, Thomas Adkins and Bill Folsom are punching, kicking and dripping with sweat. They are the Bad Apples mixed martial arts team and this - a room in their trainer Keith Carlson's basement (they call it "The Dungeon") - is their battleground.
"It's just a little hole in the ground," says Adcox. "No windows, no nothing."
It's not glamorous. But neither is the world of amateur MMA fighting that these three Tonganoxie High graduates are training for. Fight venues - like the one they will compete at Saturday (Cruisers in Sedalia, Mo.) - often are in bars and there's no money or glory in it.
So why do they do it?
Why do they sweat, bruise and sometimes bleed in this increasingly humid dungeon?
They all played some physical sport in their prep days at THS and with those fading memories behind them, all three were looking for an athletic outlet.
Folsom, a 185-pounder who wrestled and played football for THS before graduating in 1999, grew up around fighting. His late father, John Martinez, boxed and competed in tough man competitions in the 80s.
"I've always liked contact," he said. "I'm a contact person."
Same for Adkins, who was in Folsom's high school class. He said he is in it for the competition.
"This is another way to try to do something, you know, that fulfills me," said the former high school outside linebacker, who once signed with Independence Community College but couldn't go because of finances. "Our football days are over."
Those football skills don't do Adkins (145 pounds) much good anymore. Not in a sport that combines aspects of boxing, karate, wrestling and some good, old-fashioned bar scrumming. But he likes the training and the physical challenge it provides.
"It's like a way of life," Adkins said. "You stay in good health."
Adcox is walking proof of that. While Folsom (2-1) and Adkins (1-2) have been fighting more than a year, Adcox started last September and was a little out of shape at 212 pounds. One loss, one win and countless hours of training later, he enters his third fight at 155.
"It's work but it's fun," said Adcox, a 2002 THS grad who grappled as a prep, "it's an art."
For the Bad Apples that art is honed in their training sessions, which occur about three times a week in down periods in between fights and more often when a match looms. They glean as much from one another as they can because Adkins has boxing training and the other two are former wrestlers. During brief breaks in training and sparring, they talk shop, giving each other tips on techniques and sometimes trying to develop moves they've seen professionals pull off on television. With the training they receive from Carlson, a black belt in tae kwon do, and Joe O'Connor, a black belt in jujitsu, the Bad Apples hope they will be effective combatants Friday at the Sedalia Smackdown when they will attempt to roll all the styles they know into one bludgeoning combo for up to three four-minute rounds.
Folsom said each Apple expects to have his respective hand raised in victory.
"If they didn't think they could win they wouldn't be doing it," he said of his teammates, adding that he has some personal extra incentive because he has a lot of family from near Sedalia coming to support them. "I've gotta win."
That mindset is what drives these three to walk the fine line between teammate and punching dummy when they spar at practice.
"If you can't get hit in the face down here," Folsom said, "you can't go out there and do it."
Yet the Bad Apples maintain a good rapport, likening their relationship to a brotherhood or family.
Not unlike the kindredship of unassuming John and Susie Q. Public taking their kids out for an evening stroll as the Bad Apples train vigorously in a nearby, unseen dungeon on a Friday night in Tonganoxie.
Sedalia Smackdown
¢ Where: Cruisers in Sedalia, Mo.
¢ When: Saturday, doors open at 6:30 p.m., fights begin at 8 p.m.
¢ For ticket information, contact Joy King at 913-758-1980. General admission tickets cost $20 and reserve seats cost $40.