Arts in Prison founder steps aside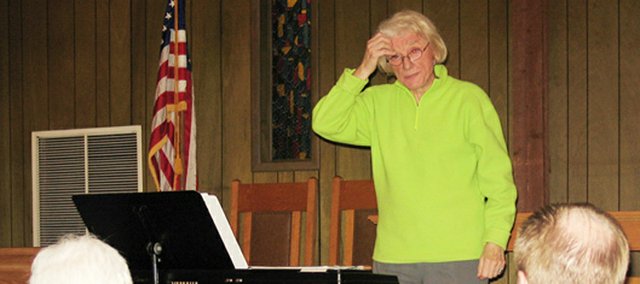 The East Hill Singers with the Arts in Prisons program will be losing not only its founder and conductor, but also the backbone of the program.
Elvera Voth has stepped down from her conductor duties after 13 years and has passed the torch on to a successor hand-picked for the job.
"I'm 85 years old and I knew I would have to quit sometime," Voth said in an interview. "I knew I had to quit and I found the perfect person to take my place."
Voth's last performers with the East Hill Singers, a choir made up of inmates from the Lansing Correctional Facility, was in April at the Kansas Music Educators Conference in Wichita in front of about 1,800 fellow teachers.
After several esteemed positions in the Alaskan musical scene, Voth moved back home in 1996 and said she made the decision to devote the rest of her life to public service. When the opportunity presented itself to start the East Hill Singers, she jumped at the chance. A few years later, she expanded the program to create Arts in Prison, which focuses on a variety of art media in the prison atmosphere.
"The arts help people," she said. "The arts open up a place inside you that you didn't know you had."
The greatest joy Voth has gotten from her work with inmates is the seeing the amount of self respect that comes from inmates working in a group and their discovery of a value and talent in themselves they never knew existed.
While the process was hard at times with many of her singers not knowing how to read music or how to match a pitch, she remained diligent to educate whoever was willing to work. Voth joked that she probably would be most remembered for repeating, "Listen more and sing less," over and over to her choir.
The conductor's baton is being passed on to Kirk Caron. Voth said she was glad to have found someone who was as passionate about the project as she was when she started the program and will always continue to be.
Voth's work with the Arts in Prisons in not over yet, however. She said she was "absolutely committed" to the idea of arts in prisons.
"The thing that I find the most discouraging is that we lock people up but then we give them so little opportunity to improve themselves when they're in prison," she said.
She plans to start work on expanding and creating more workshops within the program. She said that prisons need more programs to set inmates on a course that allows them to become different people.
"I'm just going to keep going," she said. "I know I'm far past the age but I don't care."