Blame it on rain if pool isn't open on schedule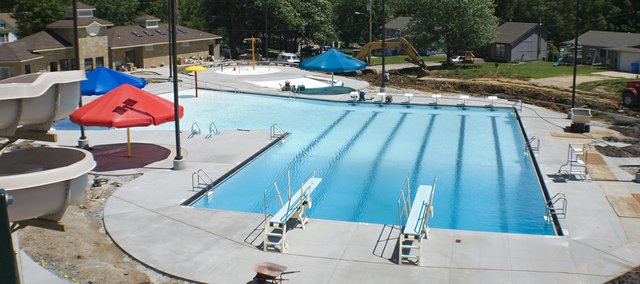 With the hopes of hundreds of swim-starved children on the line, and an eager public waiting to take advantage of a facility built with their tax dollars, city officials are starting to sing a new song: "Rain, rain go away, come back after the pool opens."
With a planned July 1 opening, Mike Yanez, city administrator, said the only thing that would push back the deadline would be another bout of bad weather.
"The life guards have started their training. The pool's all done. It's just the fencing, the landscaping and finishing touches on the buildings," Yanez said. "We will be ready if it don't rain:if it don't rain."
Bad weather through the winter and into the spring already has moved the opening day of the pool from Memorial Day weekend, to June 14, to July 1.
With the threat of more wet weather on the way, Yanez said city officials would be making decisions on when the pool will open as July 1 draws closer.
In the mean time, Darren Shupe, pool manager, said his crew will be ready to go even if the opening day is pushed back.
He said he is taking this week to get the employees and lifeguards familiar with the new facility and preparing them for the differences.
Some of the big changes are the new slides, which will need a guard posted at the top and the bottom, and the volume of traffic that is expected.
"The more people you get in the facility, the guards will have to be more on alert of the situation," Shupe said. "Anytime you have a water park facility with a spray ground and slides, guards have to secure the facility and make sure kids are safe."
Some pool rules also have changed. Chief among them are the new rules for the water slides. The new slides will have a height restriction, which means guests under 42 inches tall will not be able to use them. Another rule has been set in place to avoid scratching up the inside of the slides. Guests with swimsuits that have metal rivets, grommets or buttons will not be allowed on the slide. Guests also are not allowed to wear jewelry if they are going to use the slide.
Grommets on the front of a suit for drawstrings will be allowed because riders will have to lay on their back to go down the slide.
Shupe said he is excited for the opening of the new facility and that he was happy to be a part of the project.