Bugging out: Topeka Zoo insects invade library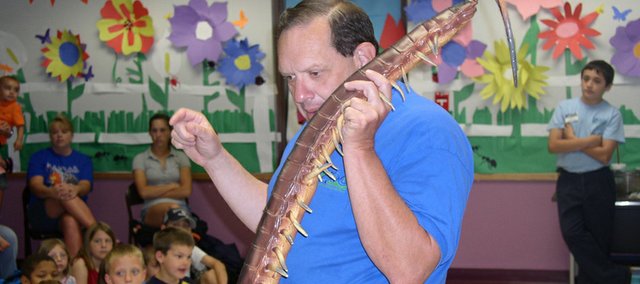 Carolyn Courtney wanted Tonganoxie children to catch the reading bug this summer at the Tonganoxie Public Library.
But after a visit with creatures from the Topeka Zoo on June 12, it appeared the bugs caught her - at least her arm anyway.
"It wasn't quite what I was expecting," Courtney said about the giant millipede that was put on her arm "It was like running a comb or a brush over your arm. It was more of the germs I was worried about."
The insect program from the Topeka Zoo was the part of the library's bug-themed summer reading program that encourages kids to catch the reading bug. More than 80 area children attended the Thursday morning event where they learned about insects from an education specialist from the zoo.
Mike Burns told the kids about the different parts of an insect's body, what kinds of noises insects make and where in the world you could find them.
The children were not only told about the insects, but they were also able to take a close look at them.
"They loved getting to see the insects up close," Courtney said.
The reading program continued on Thursday when the library had storyteller Priscilla Howe as a guest. She told several bug related stories to a packed house using audience participation and several puppets including the little old lady who swallowed a fly.
On July 3, Bongo Barry will return to sing his Whacky Bug Songs. Jim Cosgrove, a.k.a. Mr. Stinky Feet, will be performing at 1 p.m. at the Tonganoxie Performing Arts Center at Tonganoxie High School. And on July 17, children will get a special visit from beekeeper Ray Morgan.
Claudia Campbell, interim library director, said that July 24 would be the program's wrap-up party. She said the library plans on having an inflatable bounce house, clowns, balloons and popcorn for guests.