Candidate Profile: Connie O'Brien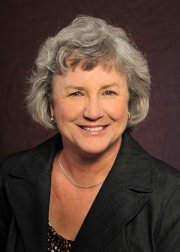 With 11 children, Connie O'Brien, one of two Republican candidates for the Kansas House of Representatives' 42nd District, knows how tight economic times can affect Kansas' families.
"I am the mother of 11 children, and I know what it means to live within a budget," O'Brien wrote in response to a questionnaire recently sent to candidates by The Mirror staff.
"Whether we like it or not, the budget will be a top priority in Kansas," the rural Tonganoxie resident said. "With a projected $188 million shortfall by 2010 and a $400 million (shortfall) the following year, we need to return to the principle of fiscal responsibility. Legislators must resist the impulse to spend. We must look for areas to cut spending and resist all efforts to raise taxes. We cannot tax ourselves into prosperity."
Asked what areas of the state budget should be trimmed, O'Brien said that government jobs, which "make up 19 percent of the total work force in Kansas," could be reduced.
"We need to curtail and downsize government growth and bureaucracies while expanding policies that promote private sector job growth," she added.
O'Brien, a graduate of St. Mary College in Leavenworth with a bachelor's degree in social studies and secondary education, is a retired teacher with Basehor-Linwood School District and currently works as a substitute teacher in McLouth.
She has also served as a precinct committeewoman since 1992 and is the current vice chair for the Leavenworth County Republican Party.
The "fiscal and social conservative" says she is a strong supporter of education and full funding for special education.
She said she opposes state benefits for illegal aliens, supports the expansion of a coal-fired power plant in Holcomb and would not approve of increasing the state cigarette tax.
"Whether it's tax relief, education, energy policy or immigration, I will work to make sure that common sense ideas and values prevail," O'Brien quipped.
O'Brien will challenge Ted Ingerson, a delivery specialist with Geiger Ready-Mix Co. from rural Tonganoxie, in an Aug. 5 Republican primary election for the 42nd District seat, currently held by state Rep. Kenny Wilk, R-Lansing.
The winner of that primary will face Democrat Timothy Moran, a retired U.S. Army officer and certified project management professional from Lansing in a Nov. 4 general election.
Kansas' 42nd District encompasses the cities of Tonganoxie, Linwood, parts of Lansing and Leavenworth and Reno, Stranger and Tonganoxie townships.
For more information or to register to vote, contact the Kansas Secretary of State's office at (785) 296-1594.