County unveils
CR1

figure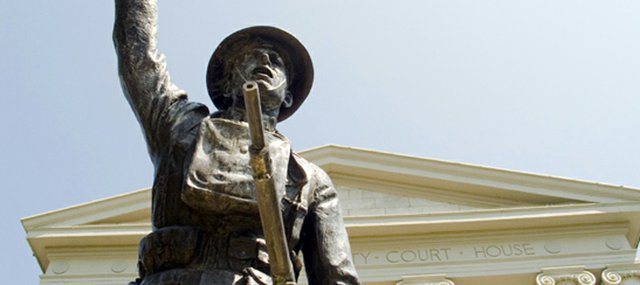 Leavenworth County commission chairman Clyde Graeber unveiled "the best figure we (the board) have at this time" in regard to the county's official pledge of special sales tax revenue for the County Road 1 interchange project in southern Leavenworth County in a regular meeting Thursday.
After ratifying a $16.7 million contract for all construction costs for the interchange project with Perry-based Hamm Construction Inc. and the Kansas Turnpike Authority Thursday, June 12, and, on the heels of confirming settlements for right-of-way acquisition from 16 property owners along County Road 1 in the amount of $363,517, commissioners said the county's total contribution for the project should amount to $8.887 million.
That figure includes all engineering costs, right-of-way acquisition and construction for the project, including a northern tie-in with U.S. Highway 24-40 by way of a realigned Honey Creek Road.
The county's blow was softened by contributions of $2 million from the KTA, $1.5 million from the City of Tonganoxie, $910,000 from the Kansas Department of Transportation and $490,000 in federal earmark funding.
"I think it's a good, fair price," Commissioner Dean Oroke said of the revised price tag, noting that commissioners in 2006 projected an $8 million expenditure for the project before a stretch of County Road 1 south of I-70 and a realigned Honey Creek Road were added. "I think it's a road that will be much, much safer for six miles than it was in the past."
Graeber did add the caveat, "There is always still the possibility this (project) could be slightly more or slightly less," depending on final right-of-way acquisition and utility relocation.
But 1st District Commissioner J.C. Tellefson, who has been a champion of the County Road 1 project since taking office, maintained that it is a good investment for the county.
He said his biggest concerns throughout negotiations in regard to the project have been the safety of the road and "being good stewards of the people's money."
He pointed to a single 252-acre parcel along County Road 1 that, as currently zoned, generated $906 in property taxes last year.
Tellefson estimated if the trustees of the property were to sell the land under a commercial designation, that assessment would jump to approximately $24,000 each year.
"At the end of 10 years, I don't think we're going to see an $8.8 million cost for these things, and neither is the City of Tonganoxie," Tellefson quipped.
In other business Thursday, the board:
¢ Unanimously voted to early issue vouchers amounting to $363,517 to 16 property owners representing 18 parcels along County Road 1 following June 16 eminent domain proceedings in 1st Judicial District Court.
The largest award was for a tract south of Loring Road owned by Myrle Leavitt in the amount of $71,477; the smallest was $1,000 for a tract north of Hemphill Road owned by Damon and Teresa Freeman.
County counselor David Van Parys said right-of-way acquisition is almost complete for the more than 60 affected parcels along County Road 1, but, for instance, negotiations have yet to begin for a tract owned by the Harman Farm Partnership that will be bisected by a realigned Honey Creek Road.
¢ Discussed the possible sale of the former county infirmary at 1830 S. Broadway St. in Leavenworth.
According to Tellefson, the county pays $35,000 for utilities each year at the facility, which is vacant aside from items stored for the county clerk's, treasurer's, appraiser's and other departments.
Commissioners said they would allow an interested party to tour the old infirmary, but Graeber questioned, "Are we going to make enough off the sale (of the building) to pay for storing these other materials?"
Ultimately, commissioners did not make a formal motion to put the facility up for sale, but Oroke said, "If we do not dispose of it, we need to embark on a long-range plan : to make it more cost effective."
¢ Reviewed five bids for janitorial services at the County Courthouse, Justice Center and Health Department ranging from approximately $191,000 to $562,000.
Commissioners voted, 3-0, to begin negotiations with the low bidder, Cole's Cleaning Svc. Inc. of Leavenworth.
¢ Approved, 3-0, temporary use permits for three commercial fireworks stands: Budd's Fireworks Stand, 14230 Linwood Rd.; Crazy J's Fireworks Stand 22081 Linwood Rd.; and Miller's Fireworks, 19230 McLouth Rd.
¢ Met in an extended executive session with members of the Leavenworth County Port Authority's Land Search Committee.