Ingerson running for Wilk's seat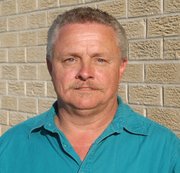 Republicans in Kansas' 42nd House of Representatives District will have more than one option in an upcoming Aug. 5 Republican primary election: rural Tonganoxie resident Connie O'Brien or Ted Ingerson, who filed June 9 for the soon-to-be-vacated seat currently held by state Rep. Kenny Wilk, R-Lansing.
Ingerson, age 48, is a lifelong Leavenworth County resident and a 1977 graduate of Tonganoxie High School.
He currently works as a delivery professional with Geiger Ready-Mix Co. and lives five miles west of Tonganoxie with his wife, Debby, and five children.
"It's something I've been wanting to do for a long time," Ingerson said about why he decided to file for state representative, adding he never put too much serious thought into running until Wilk announced he would step down earlier this year.
"I thought, 'Why run against him (Wilk),'" Ingerson said. "I've been satisfied with what he's been doing."
He noted a commitment to "creating more jobs for the state on the whole" to increase revenues "so you can do more things for more people."
Ingerson also said he would like nothing better than to give Kansas school districts "the moon," but added that that would be especially difficult with a tight budget in 2009.
"There will be budget cuts somewhere, but hopefully not in education," he said.
Lastly, Ingerson explained, "I just want to do my part to make sure the state moves forward and not backwards or sideways."
If elected, he would represent voters in the cities of Tonganoxie, Linwood, parts of Lansing and Leavenworth and Reno, Stranger and Tonganoxie townships.
The winner of the Aug. 5 primary between O'Brien and Ingerson will meet Lansing Democrat Timothy Moran in the Nov. 4 general election.
For more information or to register to vote, contact the Leavenworth County Clerk's office at (913) 684-0421.