Settlers hit rural McLouth for glimpse at life in 1840s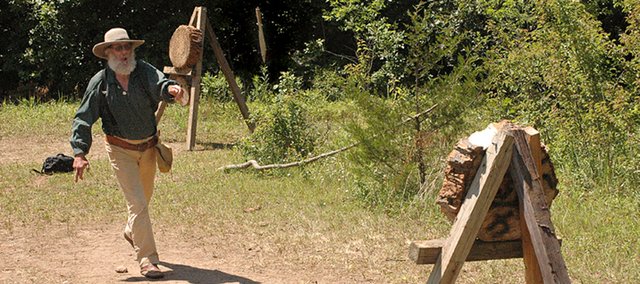 More than 300 plainsmen, fur traders and backwoodsmen traveling from 12 different states across the Midwest peddled wares, held rifle and pistol matches, and dressed in period clothing last week in an annual pre-1840s-style encampment, held for the first time five miles northwest of McLouth.
The 2008 Original High Plains Regional Rendezvous, sponsored this year by McLouth resident Bill Karl, has rotated between five different states - North Dakota, South Dakota, Minnesota, Nebraska and Kansas - each year since the early 1980s.
Teepees and lean-tos began popping up for this year's festival June 12 on Karl's property after one and a quarter inches of rain the night before, and participants continued arriving until June 15, another day that featured thunderstorms and heavy rain.
"Everybody got there in the mud and the muck and the mire : but by the end of the week, everybody just seemed tickled to be there," Karl said of the week-long event.
Among the 135 campsites in the encampment Friday, men, women and children were found practicing archery, fashioning colonial and pre-Civil War era crafts and cooking meat and other food brought from home or purchased on daily runs to McLouth's local grocery store.
Aside from the coolers covered with buckskins, and canvass netting around the numerous "hooters" (or port-a-potties) that dotted the primitive encampment, nearly everything else was of a different age. There were no cell phones, no wristwatches, no jeans, no electricity nor gas-fired stoves.
Most participants, like Al Witthoeft, who lives in northern Minnesota, cooked meals over fires lit using flint and steel, a cotton "char cloth," tow (shredded flax), and a strip of birch wood.
Witthoeft heated water for showers and baths using a cast-iron Dutch oven.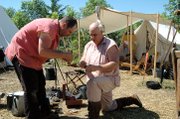 "All I managed to do was have every knuckle on my hand bloodied up," Witthoeft said of first trying to perfect using flint and steel to light a fire. He added that now he can have a good fire going in less than 30 seconds almost every time.
Ethan Pippett, 20, Grand Forks, N.D., said he's been coming to the High Plains encampment for five years. This year he brought his 9-year-old brother, Jonas, who lives in Gardner.
"I love being outdoors," Ethan Pippett said. "I enjoy guns, the archery and everything else. It's a good place to have fun with some good people."
Others, like Mark Roster, a full-time trader from Davenport, N.D., used the encampment as a business opportunity.
Roster sold clothing, hand-sewn leather goods and silver adornments made to resemble fashions from as far back as 1700.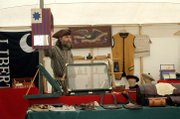 Roster and his wife make about 80 percent of the merchandise by hand, he said.
"As a full-time trader, I'm trying to spark the interest of someone portraying these time periods," Roster said. "I like to be able to set up shop for 10 days from a business standpoint, but the other aspect is, I come to share a good time with the people."
After all the travelers had packed their gear and headed home Monday, Karl said he was exhausted, but was happy with this year's turnout despite higher gas prices nationwide.
He added there were no real tragedies this year aside from a sun poisoning, or sunburn, episode and a burned hand. According to Grable, a man died of a heart attack while at a High Plains encampment one year. And at a similar festival in Ellinwood last May - approximately 65 miles northeast of where an E5 tornado tore through Greensburg - participants had to be evacuated because of severe weather.
"Everyone went home (this year) with dry canvass and pretty happy," Karl said.
The 2009 High Plains Rendezvous will be held in North Dakota's Cheyenne Ridge.
For more information on the annual event, visit www.hprr.org.