Staters dig findings near McLouth
KSU

students take to area to research archeology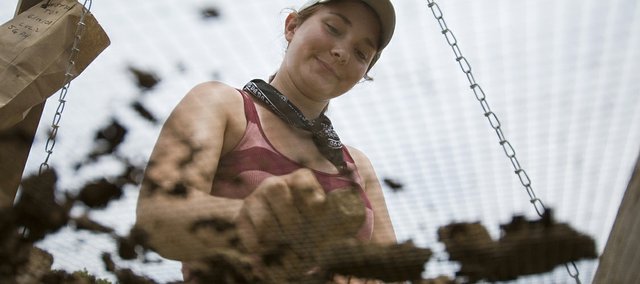 McLouth - Brad Logan doesn't wear a fedora. He doesn't wear a leather jacket or carry a whip.
As he stands behind his students, watching them practice real archaeological field work, Logan has all of the things he needs: a ball cap, a handkerchief and, of course, a trowel.
While Logan isn't impressed with the romantic view of archaeology that has been developed from the "Indiana Jones" movies, he does agree with what Dr. Jones said in his latest adventure, "Indiana Jones and the Kingdom of the Crystal Skull":
"You want to be a good archaeologist? You've got to get out of the library."
Logan, Kansas State University research associate professor of archaeology, and 10 KSU anthropology students are working in the Stranger Creek watershed searching for lost treasures of ancient people as part of a summer class.
The students are in charge of keeping a daily journal, practicing on measure and dig research pits and learning how to document their findings.
On Thursday the students had moved south to a dig site in a recently sown field.
The new area had not turned up as many finds as the original dig site and the more clay-like soil made looking for artifacts more difficult.
"Everything has just been churned up for who knows how many years so there is no integrity to the site," said Cody Underwood, Olathe junior.
The soil erosion from farming wasn't the only thing causing some difficulties. The rainy weather has on more than one occasion kept the students inside doing lab work.
"Indiana Jones might hate snakes, but real archaeologists hate the rain," Logan said.
But the water hasn't dampened the students' spirits.
"It's what I want to do," Angelica Otting, Kansas City, Kan., sophomore, said. "I've known that since I was 3. It's nice to be doing what I want to do."
Logan has been coming to the area ever since 2001 when a flood uncovered the burnt remains of a home that dated from 1000 to 1400. Logan was an anthropologist for Kansas University then.