Stranger Township Volunteer Fire Department, decade old, losing chief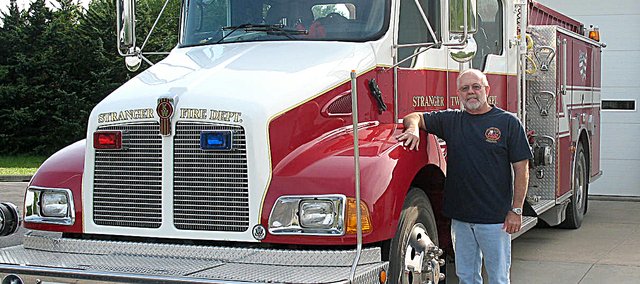 The Stranger Township Volunteer Fire Department has come a long way since Jan. 1, 1998, when its station at 195th Street and State Avenue officially opened with Ben Hayes as chief.
"We started out with basically very, very used equipment," said Hayes, who, on Thursday, will step down after heading the township fire department for more than 10 years.
With the help of longtime assistant fire chief Bert Dunham and Randy Gilliam, a captain with the department, Hayes initially procured donated bunker gear from a fire station in Tucson, Ariz., bought an old military 6x6 truck from the U.S. Forest Service, which firefighters strapped with a 900-gallon tank from the City of Tonganoxie, and found a 1972 Mack pumper that's maximum speed was 45 mph "uphill, downhill, loaded or unloaded; it didn't make any difference," Hayes said.
"It was old, raggedy gear, but we had no money, and we had to go from somewhere," Gilliam explained.
Funding for the department, pushed for by the Stranger Township Board in the late 1990s, was approved by the Leavenworth County Commission and took some of the burden off the Fairmount Township Fire Department, which was then being paid to service Stranger Township as well.
Now the department, which has approximately 20 volunteer firefighters and covers around 50 square miles from 214th Street west to 171st Street east and from Dempsey Road north to Hemphill Road in the south, has modern protective clothing, a 2001 pumper and a 1,500-gallon, 2004 tanker, thanks in part from grants from the federal government and state forestry service.
Gilliam also noted that the Insurance Services Office, or ISO, rating in Stranger Township has dropped from a nine in 1998 to a five, now, translating into a reduction in fire and homeowners insurance premiums for many local residents.
A majority of calls that Stranger firefighters get are for mutual or automatic aid, assisting other townships' or cities' fire departments.
"That's one thing residents of Leavenworth County should be really proud of," Hayes said. "The quality of mutual aid that exists in the county. That really started changing 10 or 11 years ago, about the time we started.
"The departments started working more closely together, training together and we now have on structure fires automatic aid : where the two nearest townships or cities are dispatched."
The former Kansas City Kansas Community College instructor, who now works full-time as director of faculty and staff development at KCKCC, said it's been a pleasure serving as fire chief.
"I really have felt like it was a privilege to be able to head this department and be able to work with the good folks we have on as firefighters," Hayes said. "I don't think people know how much time these guys spend down here."
He noted the hours of training township firefighters spend each month in regular, hazardous waste and medical first responder courses.
Hayes will hand over the reigns to Dunham, whom he volunteered with in Fairmount Township before establishing the Stranger department, on Thursday night at the Stranger Township Board meeting, but he will stay on as an officer for some time before stepping down completely.
He said of his replacement, "Bert (Dunham) has got a good working relationship with everyone, knows the business. Yeah, he'll be fine."
And Dunham spoke equally as fondly of Hayes.
"We basically call him dad," he said. "We're like a big family, and he's pa : He's definitely someone the community should look up to."